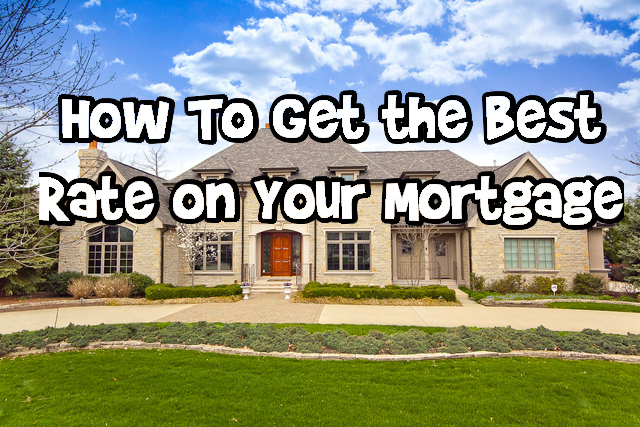 If you're in the market to buy a house or to renew your mortgage, you're in luck as the mortgage rates in Canada right now are crazy low. The Robinson family's mortgage is up for renewal in October, and we are starting to shop for new mortgage options now.  Most lenders will guarantee their rates for 120 days, so for us, the time is right to get our mortgage shopping on.  As the ultra-frugal Bargainmooser that I am, I am committed to getting the absolutely best deal possible on my next mortgage.  There are many things to consider: benefits beyond the mortgage rate itself, the actual cost of the mortgage you choose, the benefits you want/need from your mortgage, whether to use a mortgage broker or not, and how to negotiate the best deal possible.
Use a broker
The last two times we negotiated our mortgage we used a mortgage broker.  What is a broker, you ask?   Check out this article from The Globe and Mail about why you should use a mortgage broker.  In short, they will negotiate a good rate for you, and they get a commission based on the mortgage they sell to you.  In essence, they do the shopping around for you to get you the very best rate.  If you don't have time, or you aren't comfortable negotiating, contacting a mortgage broker could save you a bundle.   We have a workplace affiliation with a mortgage broker called True North Mortgage, where they guarantee the best mortgage rates to our employees.  I am in the very least getting a quote from them which I can use to negotiate with other lenders.  True North has quoted a 5 year fixed rate at 2.89% from ScotiaBank, which seems amazing.
Benefits beyond the mortgage rate itself
Don't just look at a low mortgage rate, be sure to check out the other costs and benefits of a mortgage.  According to this Moneysense article, nearly 40% of people refinance their mortgage at some point during the mortgage's duration.  Given that reality, check the details of the costs of potential changes like a refinance before you sign on the dotted line.  There are lots of options in mortgages to consider like prepayments, lump sum payment options and increasing your monthly mortgage amount all being options.  We don't have any company-sponsored RRSP plans, so our main goal for the past few years has been to aggressively pay down our mortgage, and we have utilized all of the options I just mentioned.  They are all necessary in our next mortgage.
Negotiate, negotiate, negotiate
When we were approved for our first mortgage we were poor, uneducated, and not empowered with our ability to negotiate the best deal on a mortgage.  We had no idea that a mortgage is a huge money maker for a bank, and that they will compete for our business.  We went with a broker who was recommended to us, and he did the dirty work for us.  We ended up with a competitive rate with a good company, but I always wondered what I could have negotiated on my own.  Now we have the bargaining power, the bank roll and the education to canvass for a great deal on our own.  It helps that we have a lot of equity in our house, we are a great customer to our bank, and we are interested in moving all our investments and banking to whichever bank wins our mortgage.  Don't be fooled: banks make BIG bucks on our mortgages- they SHOULD do what they can to win our business.  I am planning on taking the rate from ScotiaBank to our new lender of choice (likely Libro) and will negotiate to receive that rate plus all the other benefits we will receive through moving our mortgage to them, including free monthly banking and participating in their profit sharing plan.  Don't get me wrong, I'm a nice Canadian girl, but I'm not afraid to ask them to match a competitor's quote.  Even if the difference in mortgage rate is 0.01 of a percentage, that still adds up to hundreds, if not thousands of dollars of savings.  It really can't hurt to ask.
How much will your mortgage cost you?
Make sure you evaluate all the costs including cancellation fees of your mortgage.  It can be extremely costly to cancel or make changes to your existing mortgage, and given that many people will modify their mortgage in some fashion before its renewal, examine those costs beforehand.  We are considering putting in a pool next summer, and now is the perfect time for us to pull money from the equity in our home, especially given the extremely low interest rates Canada is currently experiencing.  We are getting competitive quotes for the pool in advance of next summer's install, and also in advance of our mortgage renewal so that we are fully prepared to make an educated decision about how much the pool will cost us.
Ultimately when you buy a house it's your responsibility to ensure you have done your due diligence on the mortgage you choose.  This Globe and Mail article is really excellent and details 63 questions to ask about your next mortgage.  For example, I didn't realize that when I leave my current mortgage lender (MCAP), I will have to pay a discharge fee of around $350, which seems crazy to me.  Having that knowledge is helpful, as it is a cost I will ask my new lender to absorb.  If you are renewing your mortgage, use the 120 days before your mortgage expires to secure the very best rates possible for the renewal.  Shop around, don't be afraid to ask questions, ask for referrals from friends and family, and don't be afraid to negotiate.
Bargainmoosers, what tips do you have to save money on mortgages?
Photo credit: Don The Idea Guy Snyder