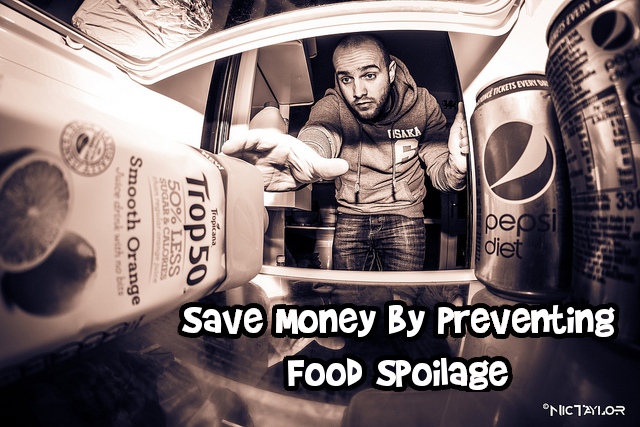 According to the blog Ready for Zero, the average American wastes about 40% of their grocery budget on food waste.  I have a feeling that Canadians aren't far off.  I try to avoid food waste but inevitably I have to throw away food because it has spoiled in my fridge, especially for vegetables that I don't usually use on a regular basis or for meats that I keep in the freezer and they end up getting freezer burn or just smell "off'.
The American numbers are sobering, the NRDC (National Resources Defence Council) estimates that if we reduce a mere 15% of our food waste, we could feed 25 million people.
So to prevent throwing away 40% of your grocery budget through food spoilage, here are some ways in which you can save money on your grocery budget by preventing food spoilage.
Separate your Fruits
Contrary to the aesthetic appeal of how elegant a fruit bowl looks, you might want to think about separating your fruits.  When fruits are clustered together, they release ethyelene gas which speeds up ripening your fruits.  This includes separating your banana bunch into individual bananas because there is ethylene gas released in the banana stem.  Here's a video as proof if you're interested.
Resuscitate your Vegetables
Ready for Zero also says that if you soak your limp lettuce, celery, or broccoli in a cold water bath for 15 minutes, it gets rid of the limpness and helps resuscitate it.  Of course you should use it immediately after the cold water bath to avoid further food spoilage.
Keep It in the Bag
Certain fruits and vegetables are better left off in the bag.  Carrots, peppers, and apples are best kept in the bag that it came in from the supermarket as it will last longer.  Plastic wrapped cucumbers (you know, those long English cucumbers) last three times longer when kept in the plastic wrap, according to Love Food Hate Waste.
Know Your Fridge
Labelling your freezer items would help and furthermore, if you know your fridge inside and out like the back of your hand, you'll be less likely to waste food.  Sometimes in the recesses of my refrigerator I see something that I forgot I had in there and get excited because I caught it in time before it went bad and can use it.
One way to "know your fridge" is to ensure you keep things that you opened (e.g., a package of deli meat for lunch) in the front and perhaps scope out your fridge on a weekly basis just to make sure you're optimizing whatever is in there.
Look Up your Fruit or Vegetable
Whole Foods Market has a great list of all the fruits and vegetables that you can think of (including mangoes and grapefruits and gooseberries) and details how to select the fruit, how to store the fruit, and how to best use the fruit.  The food guide also says how long you can keep the fruit in the fridge (or even if you can keep it in the freezer) before it goes bad.  A little research goes a long way in preserving your fruit of vegetable that you bring home, especially if it's from a more upscale grocer like Whole Foods!
Also, if you like charts and want something handy that you can hang in front of your fridge (you know, put those fridge magnets to good use), this great visual chart by Lifehacker shows you how long fruits, vegetables, dairy, and meat lasts if you leave it on the counter/pantry, or if you leave it in the fridge, or if you freeze it.  For example, I knew I could freeze bread (it's fantastic, life changer for me) but I did not know that bread would last happily in the freezer for 2-3 months.
Bargainmoosers, do you have any tips to reduce food waste and prevent food spoilage and save money at the same time?
Photo Credit: Nic Taylor