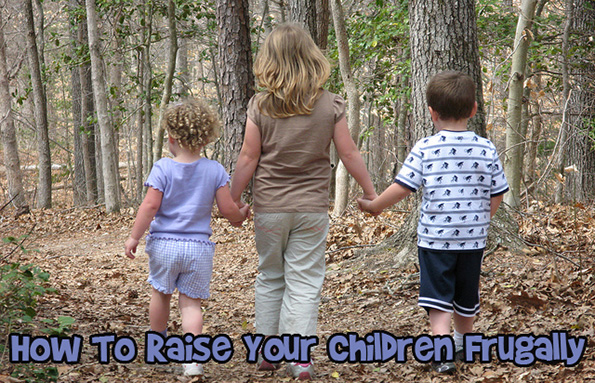 We are a very frugal family.  My lovely husband is a stay at home parent, so we are very focused on reducing our costs on everything.  Living on one income isn't common these days, but it's a choice we have made in order to have the quality of life we want.  We have 2 small children, so costs add up quickly.  Below are some tips on how to be frugal while raising children.
Remember that kids just want to be with you
Kids really don't NEED fancy Disney vacations each year.  They don't even need to go to Great Wolf Lodge!  They want (and need) to spend quality time with you, their parent (or guardian).  Our children are still small (3 and 5), so we haven't thought it was important thus far to take them on proper vacations.  We have, however, taken them on day trips during summer vacation.  Usually I take a week off every summer and we fill that week with inexpensive day trips, including the beach, visiting their grandparents, and we always do a day trip to the Toronto Zoo.  We "buy" our tickets to the zoo from Air Miles so we just have to pay for parking.  We always pack our lunch, snacks, and food for the drive home as well.  There are usually great travel deals that pop up on Bargainmoose through the year too.  Travelling in the off-season can be another great option for saving money.  We have considered renting a cottage for a week, and we find that the cheapest times are in the spring and fall.  Better yet, maybe someone close to you has a cottage or a timeshare you can borrow or rent for a small fee.  Ask around!   Even if you don't go anywhere with your family, spending quality time at home with your family is just as fun.  Especially in the winter time, I enjoy baking with my girls, and we love playing outside in the snow.   In the summer we go to parks, we go for hikes, and our favourite activity is visiting my aunt's pool.  Of course we pack our lunch everywhere we go.
Be a "granola" parent
This is what I call being more naturally-focused as a parent.  As an example, we made all our own baby food, and I breastfed my children exclusively past WHO's recommended 6 months breastfeeding recommendation.  Do you know how expensive formula is?  It's extremely expensive.  The best $150 I have ever invested is in the lactation consultant we hired immediately after my daughters were born.  This investment included two home visits and unlimited email and phone support, to get me through the sometimes tough first few days of nursing.  Food is a very important aspect of raising healthy children, and my family is committed to eating mostly whole and clean foods.  This means that we make most of the food we eat, from scratch.  If my children are going to eat cookies, they are at least going to be cookies that I have baked at home.  I know that there aren't preservatives and fillers in the cookies.
Save for the future
Post-secondary education is very important to us, and we hope that our children will follow suit.  We started saving in our daughters' RESP from the moment of their birth. Did you know that there are government grants that add money to your RESP for every dollar you put in? So not just will you earn interest on the money you invest, you'll get government money and earn interest on that money too.  Every family in Canada with children under 6 receive something called the Universal Child Care credit of $100 per child per month, and we put that money automatically in an RESP.  It's free money, so it feels like we never miss it.  I'm happy that we are saving now instead of being in an emergency money situation when they are ready to go to school.
Buy second hand (or better yet, accept things which are free)
When I was pregnant with my first daughter, my brother and sister in law were kind enough to give us their old baby supplies: crib, clothes, baby blankets, the whole works.  We were given an awesome stroller and change table, and we were set!  We weren't worried about buying all new furniture for a baby who doesn't know any different, and we were happy to accept any and all freebies.  As our kids have gotten older, we have been very fortunate to receive many wonderful pieces of clothing as gifts from our families, and we are happy to receive them.  We buy second hand whenever we can, and we have sold clothing through a consignment shop as well.  Kids go through clothing so quickly, what is the point of buying new all the time?
Participate in city-run programs
We almost always participate in our city's children's programs.  They have excellent classes of all types (including dance, crafts etc).  We always enrol them in our city's swimming classes as well - at $55 per child, it is less than half price of private lessons we have tried.  This summer we discovered that there is a FREE city-run children's program in my daughter's school.  It runs from 9:30-12:00 and 1-4:00, and my daughter loves hanging out with the older children in the program.  Free is a much better cost than enrolling her in summer day camps which can be as expensive as $250 per week!  Given that our household gets by on one income-only, this is not a cost we can afford.
The bottom line with raising kids in a frugal way, is that you really can't do it if you are always trying to keep up with the Joneses.  Live within your means, and don't be ashamed to say no to things, events, or children's programs that you just can't afford.  Follow some of the tips above and you'll be on your way to saving money while raising children!
(banner image credit: vastateparksstaff)