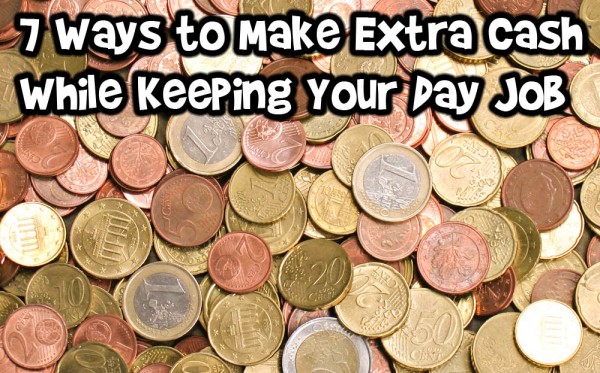 Do you ever feel like your bi-weekly paycheque sometimes isn't quite enough? When I first moved out on my own to start my full-time job and took a look at my net income, that's exactly how I felt. After coming to terms with my starting salary, and making a budget that I could work with, I still wanted to see if there was any way I could make some extra cash on the side without interfering with my day job. With a bit of research via my best friend Google, I discovered that there are number of ways that I could make money without having to take on the night shift at 7-Eleven. I haven't personally tried out all of these side gigs, but I have done quite a few of them, and I'm telling you having a second stream of income appear in my bank account every month sure makes that extra bit of time and effort worthwhile.
Sell your stuff online – Although I think donating your old clothes and furniture to charity is a great idea, if you have a few designer bags or antique chairs taking up space in your house, try selling them on Craigslist, Kijiji, or eBay to bring in a bit of extra dough. Remember, one person's junk is another person's treasure.
Make stuff to sell online – If you don't have anything to sell, why not make something to sell? Do you have a special skill like bead-work, knitting, pottery, or graphic design? Then start whipping up some earrings, scarves, clay pots, and wedding invitation templates to sell on Etsy. Better yet, find a niche market that matches your skill set just like the woman behind Child's Own Studio who makes personalized stuffed animals based on child drawings.
Run a business out of your home – If your talents are more in the kitchen or with a sewing machine, start a catering or alteration business out of your home. First spread the news amongst your friends, family, and work colleagues to get some word-of-mouth business and see where it takes you. That's how one of my co-workers became the go-to person for making everyone's birthday and wedding cakes.
Become a mystery shopper – Although you usually don't make anywhere near $20/hour to be a mystery shopper, there are a lot of perks that go with it. Whether you are assigned to mystery shop at a restaurant, clothing store, or casino, most of the time you are paid for your visit as well as reimbursed or credited for a certain amount of purchases.
Become a brand ambassador – I constantly see job postings recruiting brand ambassadors on Craigslist, and usually all it entails is having to hand out promo items or samples to people at an event, bar, or on the street. It's not a hard job to do but it can be a great way to make some extra cash on the weekends as well as help develop your public speaking skills.
Become a babysitter – If you like kids and don't mind spending a few hours at night or on the weekend watching Disney movies, it might be worth your time to take on a babysitting gig. Not only will you be doing the parents a huge favor by watching their kids while they go on a much needed date night, but if you aren't yet a parent yourself, it's a great way to see what to expect when you have your own family to take care of.
Rent out a spare room or your garage – If you've got a home with a spare bedroom, ever thought about renting it out and living with a roommate? Or better yet, if you have a garage, rent it out to someone as a storage space. You can easily make an extra several hundred dollars a month by doing this, and if you are thinking of eventually investing in a rental property, what better way to see if you are cut out to be a landlord on a much smaller scale first.
Bargainmoosers, do you have a side gig on top of your day job? What do you do to make extra cash on the side?
(Image: Ayla87)