Up to 60% off Black Friday Deals Week @ Amazon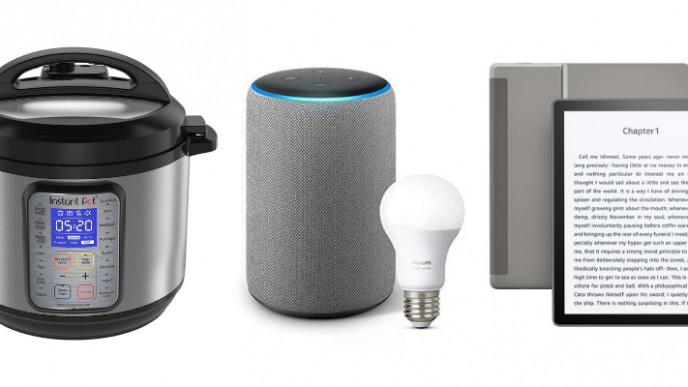 The biggest shopping day of the year – Black Friday – started a little bit early at Amazon Canada. Their Black Friday Deals Week event is LIVE, and that means you can shop their hottest sales of the year across every single department right now. There are items for up to 60% off, including small kitchen appliances, video games, laptops, designer watches, and, of course, Amazon Echo products.
In fact, there are SO many sales to choose from that we decided to find the absolute best deals and share them here. No matter what you're looking for, check this list and act fast. You should be able to find what you need. We'll update this post as more deals are launched, so stay tuned!
The Best Amazon Echo Black Friday Deals

Amazon Echo Dot (2nd Generation)for $24.99 – Hands down, this is the best price you'll see for the older Echo Dot (which usually sells for $54.99). It's still available in black and white, but only if you hurry!

Amazon Echo Dot (3rd Generation) for $34.99 – Looking for an upgrade? The all-new Echo Dot is in stock in charcoal, grey and sandstone, and all three of them are now half-price. At this discount, I expect them to sell out FAST, and it looks like only a few of each colour are left in stock!
Amazon Echo (2nd Generation) for $89.99 – This isn't the first time we've seen the Amazon Echo at this price point, but it's definitely a deal worth jumping on. If you hurry, it's still available in three colours.
Amazon Echo Plus (2nd Generation) for $149.99 – Here's a step up from the second-generation Echo. It's now $50 off the regular price, and it has improved sound quality, and it can now control more smart home devices, including lightbulbs, plugs and motion sensors.

Amazon Echo Spot for $119.99 – Want to make a hands-free video call without propping up your phone or powering up a laptop? The Echo Spot is now $50 off the regular price (in black or white). Just note that it's currently only available in English, and French is not supported for any voice commands.

Amazon Echo Show (2nd Generation) for $234.99 – Last but not least is the new Echo Show. It's $60 off and comes in either charcoal or sandstone. The device is basically a miniature TV with a powerful speaker and 10.1" HD screen that's perfect for watching movies and Prime Video shows.

The Best Amazon Fire Black Friday Deals

Amazon Fire TV Stick 4K for $49.99 – If you're after a streaming device, this might be the best deal we'll see all weekend. The markdown on this Fire TV Stick (which usually sells for $69.99) is actually better than the Black Friday discount on the Roku Express, so this is definitely worth your while.
Amazon Fire HD 10 Tablet for $149.99 – Get ready for the biggest Amazon Fire tablet yet. This one has a 10.1" Full HD display, and both the 32 GB and 64 GB versions are now $50 off. You get up to 10 hours of battery life, so you can read, stream and play games all day long, if you want.

Amazon Fire HD 8 Tablet for $69.99 – The Amazon Fire HD 8 is no stranger to the deals section, but this is one of the first times their new version has been marked down. It's now $30 off for 32 GB or 64 GB.

Amazon Fire 7 Tablet for $39.99 – This is the next generation of Amazon's own tablet and perfect if you need a starter model or something your kids can use without any worries. It has a 7" IPS display, and the Black Friday sale means it's $20 off the original $59.99 price for the 8 GB version.

Amazon.ca Black Friday 2018

Savvy online shoppers will invest a little time shopping around to compare prices and keep in mind that with Amazon, Black Friday is a month-long event. Deals on electronics can also be found on Cyber Mondaysale, with deals updated as often as every ten minutes. Cyber Monday will include a ton of brand names such as Samsung, Xbox, Nintendo, Nike, and Apple. How can you keep on top of these deals? Follow the latest deals from Amazon by following Amazon on Twitter, liking Amazon on Facebook, downloading the Amazon mobile app, or signing up for deal emails.
Frequently Asked Questions
Will Amazon have Black Friday sales?
As usual, you'll find some of the best Black Friday Canada sales at Amazon.ca. The online retailer usually offers some of the biggest discounts across the country on everything from electronics to toys, and it's looking like this year won't be any different!
When is Amazon Black Friday 2017?
Officially, Black Friday 2017 is Friday, Nov. 24, 2017, but Amazon is starting their deals way earlier than that! Their Countdown to Black Friday Deals are already on, and we'll keep you updated as more sales are announced.
What are the best Amazon Black Friday deals for 2017?
In previous years, the kinds of deals we've seen on Amazon.ca have included crazy discounts on electronics like 42" LED TVs for less than $200, 70% off brand-name headphones, 50% DSLR Canon Cameras, 45% off Cuisinart Keurig K-Cups, $170 off PS4 Bundles and 70% off winter coats on brand names like Calvin Klein. The deals are generally quite varied on Amazon, so whether it's apparel, appliances or automotive, we will be mining through all the best deals and posting them right here, so check back for updates. While you're waiting for Black Friday, current deals are available right now on the Amazon Coupons page.
What are Amazon Lightning Deals?
We're forecasting a whole lot of Lightning Deals for this year's Black Friday – deals that can be as short as 30 minutes to as long as one single day. As you can probably imagine, some of the best deals, are the ones that are only available for a limited time or while supplies last, so it's best to keep on your toes when it comes to Amazon.ca.
Are there any Amazon Black Friday apps?
One of the best ways to keep up-to-date with Amazon.ca's deals on Black Friday and year-round is to download and check their Amazon Canada app. It's available on the App Store and from Google Play. Another awesome way to hear about Amazon Black Friday deals? Check this page often and visit our Facebook page!