Amazon Canada Black Friday Deals 2018
Updated: Nov 09, 2018
Countdown to Black Friday Deals @ Amazon Canada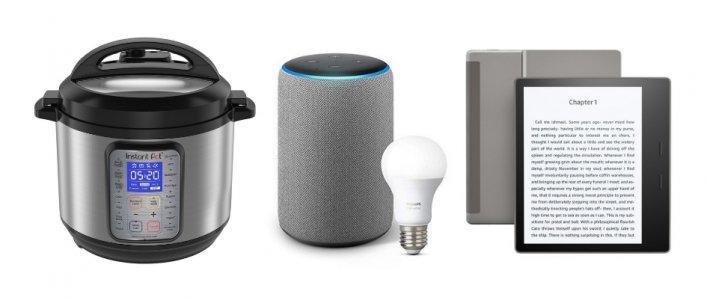 The biggest shopping day of the year – Black Friday – is just a few short weeks away. But if you can't wait that long, there's no need to worry. Amazon Canada has already started their Countdown to Black Friday deals! While the savings aren't necessarily as big as the discounts we'll see on Black Friday itself, it's definitely still worth checkin these out for yourself in the meantime.
There's now a landing page on the Amazon Canada website where they're listing every major deal leading up to Black Friday. Right now, it's mostly populated with their Deal of the Day promotions and other deals – but chances are more (and bigger) sales will be up soon. For now, check out these Amazon Canada deals.
Last year, Amazon.ca ran Black Friday deals across almost every department online. Of course, some of their biggest and best promotions are on things like electronics, video game consoles, headphones and toys. We don't have the details yet, but we'll let you know right here as soon as we know more about exactly when this year's Amazon Black Friday sales start. Typically, Amazon will hold flash sales, as well as deals that last for the entire Black Friday weekend, including some Prime-exclusive prices.
Pro tip: bookmark this page and subscribe to our newsletter to find out about all the best deals!
Amazon.ca Black Friday 2018

Savvy online shoppers will invest a little time shopping around to compare prices and keep in mind that with Amazon, Black Friday is a month-long event. Deals on electronics can also be found on Cyber Monday sale, with deals updated as often as every ten minutes. Cyber Monday will include a ton of brand names such as Samsung, Xbox, Nintendo, Nike, and Apple. How can you keep on top of these deals? Follow the latest deals from Amazon by following Amazon on Twitter, liking Amazon on Facebook, downloading the Amazon mobile app, or signing up for deal emails.
Frequently Asked Questions
Will Amazon have Black Friday sales?
As usual, you'll find some of the best Black Friday Canada sales at Amazon.ca. The online retailer usually offers some of the biggest discounts across the country on everything from electronics to toys, and it's looking like this year won't be any different!
When is Amazon Black Friday 2017?
Officially, Black Friday 2017 is Friday, Nov. 24, 2017, but Amazon is starting their deals way earlier than that! Their Countdown to Black Friday Deals are already on, and we'll keep you updated as more sales are announced.
What are the best Amazon Black Friday deals for 2017?
In previous years, the kinds of deals we've seen on Amazon.ca have included crazy discounts on electronics like 42" LED TVs for less than $200, 70% off brand-name headphones, 50% DSLR Canon Cameras, 45% off Cuisinart Keurig K-Cups, $170 off PS4 Bundles and 70% off winter coats on brand names like Calvin Klein. The deals are generally quite varied on Amazon, so whether it's apparel, appliances or automotive, we will be mining through all the best deals and posting them right here, so check back for updates. While you're waiting for Black Friday, current deals are available right now on the Amazon Coupons page.
What are Amazon Lightning Deals?
We're forecasting a whole lot of Lightning Deals for this year's Black Friday – deals that can be as short as 30 minutes to as long as one single day. As you can probably imagine, some of the best deals, are the ones that are only available for a limited time or while supplies last, so it's best to keep on your toes when it comes to Amazon.ca.
Are there any Amazon Black Friday apps?
One of the best ways to keep up-to-date with Amazon.ca's deals on Black Friday and year-round is to download and check their Amazon Canada app. It's available on the App Store and from Google Play. Another awesome way to hear about Amazon Black Friday deals? Check this page often and visit our Facebook page!