Up to 75% off Black Friday Deals @ Toys R Us Canada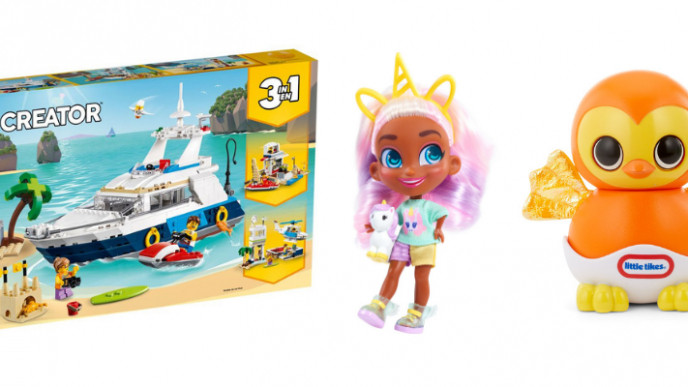 If you've shopping for toys this weekend, you're in the right place. One of the biggest Toys R Us Canada events of the year is now live, and I almost can't believe some of these prices. It seems like almost everything they sell online and in stores is marked down, and they have Black Friday Deals for up to 75% off!
These clearance items are only available while supplies last, so you really need to hurry if you're shopping for something specific. It feels like the weekend has only just started, and already most Polly Pocket compacts and LOL Surprise dolls are already completely sold out online.
One deal you absolutely can't miss is on Monopoly: Fortnite Edition. It's set to be one of the biggest board games this Christmas, and my guess is it will sell out well before then – and that means you should get your hands on one while you still can! While quantities last, Toys R Us has it for $17.47, down from $24.99!
Last year, Toys R Us Canada ran what they called 1/2 Price Black Funday Deals – and something very similar is back. There are actually two parts to this event. First, Toys R Us Canada will release a new set of One Day Deals every morning during the Black Friday sale. You only have 24 hours to shop 'em, and these deals will sell FAST – so there's no time to waste. And second, they also launched an entire section of 1/2 Price Deals that will run between now and Nov. 29, 2018.

Finally, Toys R Us Canada has one more treat for online shoppers. If you place an order of at least $50 online and then pick it up in-store, you'll receive a FREE $10 savings coupon. You can use those coupons in-store on orders over $50 before the end of the year. See the coupons for full details.
And if you're already thinking about next week, Toys R Us Canada is actually giving a sneak peek of their Cyber Monday Deals! Their flyer for the week is already live online (in case you didn't receive one in the mail), so it's worth taking a peek and scouting out any items that aren't on sale quite yet.
Sign up for our newsletter
Toys R Us Black Friday
Black Friday deals from Toys R Us include discounts on selected items from their entire stock on trusted brands like LEGO, Fisher-Price, Disney, and Barbie (and so many more!). We will be posting their very best deals right here and if you can't wait until Black Friday, you can check our Toys R Us Coupons page and start saving today.
You can also check in on Toys R Us Black Friday deals through their main social media pages on Facebook and Twitter.
Toys R Us Black Friday Deal Predictions
If you want to take 2016 as your benchmark, you can look forward to some pretty insane "door buster" deals with the sale starting on Thursday at 5 pm and straight through until midnight. On Friday itself, hours are scheduled to start at 7 am and all deals are "while supplies last." Highlights from 2015 include, video games like Call of Duty and Angry Birds on for $1.00, $70 off 55-piece train-set with table from Imaginarium, $150 off 12-volt electric Barbie Escalade, FisherPrice's BeatBo for $24.99, Shopkins ornaments marked down to $5 each. For this year, we are predicting up to 50% off FisherPrice toys, with similar discounts on Disney, Mattel, Thomas & Friends, and LEGO; 50% off tablets, with lesser discounts off iPads; and of course, we are expecting them to offer drops in big ticket items like swing sets and play sets, which last year rose as high as 40% off.
All-in-all, Toys R Us will likely have a lot to offer this year, and we will be looking for the latest deals, discounts, and coupons to help you get the most out of Toys R Us' Black Friday sales event.