The Black Friday 3-Day Event @ Walmart Canada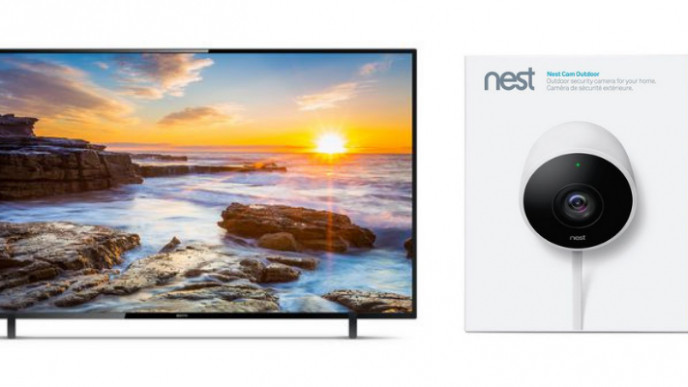 Walmart Canada launched their Early Black Friday Deals about a week ago, but now it's time for the big event – the Black Friday 3-Day Event, to be exact. They slashed prices across almost all their departments, and those discounts last all weekend. But since items are already selling out, you might want to hurry!
As you might have expected, some of the best deals are on electronics, appliances and toys, so that's mostly what we're going to focus on here. Those are also the most products that will likely sell the quickest, so I'd try and shop as soon as you possibly can – especially if you're eyeing a new TV or smart home devices.
Speaking of which, I almost can't believe some of the deals Walmart Canada has on Nest. Their wifi-enabled Nest Cam Outdoor Security System is down to just $184 from $249, and so is their Indoor Security System. And if you still haven't taken the plunge and bought the Nest Learning Thermostat, it's $90 off!
Now let's move on to vacuums. Amazingly, they still have a few Dyson models left in stock, including the upright Dyson V8 Animal Cordless Vacuum Cleaner. It's marked down to $398 (from $599.97) and works for up to 40 minutes of suction before it needs to recharge – which should be plenty of time.

Over in the toy department, there are enough markdowns to keep Santa's workshop fully stocked – even if he's on a budget. The PAW Patrol Sea Patroller, for example, is on for $39.97, which is one of the lowest prices I've ever seen. And don't even get me started on one of the most fun-looking toys to come out in a while. The Step2 Anniversary Edition Roller Coaster is now only $99.93!
I'm just scratching the surface here, and it's definitely worth checking out all the Black Friday deals for yourself. There's just one more thing you should know about before you go. Walmart Canada is also running a promotion where you select orders over $100 qualify for $10 off future purchases of $100 or more!
Sign up for our newsletter
Walmart Black Friday 2018
Walmart's three-day Black Friday event is, well, let's just say it: it's epic and they're sure to be offering some killer deals. It starts at midnight EST on the 23rd of November. In others words, you can start shopping at 12:01 AM on Black Friday and keep on shopping all weekend long.
Walmart runs a whole gambit of promotions for Black Friday, they include: Early Access, Pre-Black Friday, Online Specials, Black Friday and what they call their "Christmas Ad Match" program. The Early Access program is basically an e-newsletter that sends notifications of deals directly to your inbox; if you're not into cluttering up your inbox, you can always check back here for updates on Walmart and all your other favourite retailers. The other program worth knowing about is Walmart's Ad Match program, which is basically the same one they run throughout the Christmas season, but the idea is that if you buy something on Walmart.ca, and then find a lower price in-store at another retailer, you just email [email protected] and Walmart will send you the difference on a gift card.
Walmart Black Friday Deal Forecast
Walmart has offered some pretty great deals in the past, such as when they dropped the price of 16G iPad Mini 2s to $298 and then giving away $20 Walmart gift cards with each one; or when they offered 32" HD Smart LED TVs for $158; XBox One Bundles for $349; or when they marked Samsung tablets down to $108. Apart from electronics (seriously, 50" LED TVs were down to $378 and Sony surround-sound was $168, wireless beats headphones for $149, and HDMI cables for $5), we also saw DVD blow-outs for as low as $3.97 each, kids PJ sets for less than $5, $20 for Thomas & Friends train sets, pogo sticks and scooters for $15 and board games blow outs with prices ranging between $5 and $10. This year, we are going to be expecting more of the same -- but we will especially be keeping our eyes out for deep discounts on toys and electronics since that's where Walmart really shines on Black Friday.
We will be mining through all the best deals and posting them right here, so check back for updates. While you're waiting for Black Friday, current deals are available right now on the Walmart Coupons page.