Online Only: Boxing Week Deals on Now @ Walmart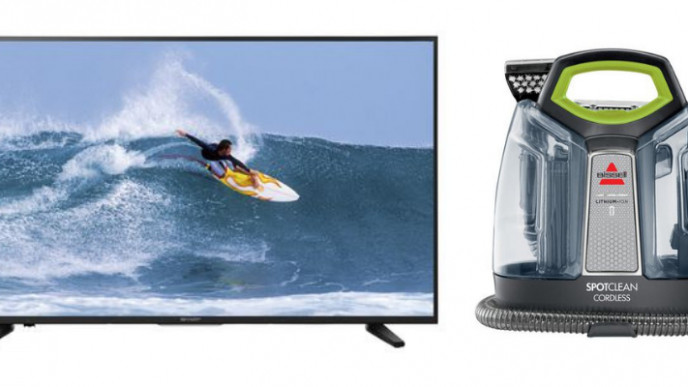 Shoppers, start your engines – because one of the biggest Boxing Day sales is already here! Instead of just one day of markdowns, Walmart Canada is releasing a TON of Boxing Week Deals, and the first wave of clearance items is now live on their website. So what are you waiting for?
Officially, these deals are only available online. They'll add even more discounts to the site on Dec. 24, and you'll see Boxing Week prices in stores on Dec. 26 itself. But in the meantime, they already have a few deals worth checking out – like this iRobot Roomba 620 Vacuum Cleaner, for $100 off!
They already have a few deals on holiday décor, so now's the time to start shopping for next Christmas. After all, when else can you order a Holiday Time 7' Duncan Quick Set Christmas Tree for just $49.99? It usually sells for $74.98, and it''s already decked out with clear lights and everything.
It looks like Walmart Canada is once again saving their biggest deals of the season for Dec. 26 itself (which falls on a Wednesday this year). Until then, scout out their Boxing Week flyer for more details and make sure to check this page often. We'll update it with the biggest and best markdowns!
Sign up for our newsletter
Walmart Boxing Day Canada 2017
Boxing Day deals are right around the corner! Get bargains for tons of items from toys to DVDs to consumer electronics!
Bargain-hunters rejoice! Walmart Canada's Boxing Day sale gears up at noon on the 24th of December, giving you plenty of time to surf the savings before the in-store Boxing Day sale on the 26th. So put that turkey in the oven and head on over to Walmart.ca for this year's hottest Boxing Week bargains.
Since we haven't received any Walmart Boxing Day flyer leaks for 2017 yet, here were some of our favourite deals from last year:
Boxing Day Walmart Electronics Deals
Element 40" HD Smart TV - save $100, reduced to $268
Uncharted: The Nathan Drake Collection PS4 Hardware Bundle - just $349.96
Boxing Day Canon MG2920 Wireless Printer was $90, reduced to $38
Boxing Day Tablet RCA 10" with Keyboard Folio Case 32GB was $168, reduced to $118
Boxing Day Nintendo 2DS Blue with Mario Kart 7 - reduced to $89.96
Boxing Day Acer Aspire E5 Series Premium Laptop was $498, reduced to $398
We also spotted the Apple iPad mini 2 Wi-Fi 16GB on sale for just $298 in either colour last year.
Boxing Day Walmart Toy Deals
50% off table games
Select toys for $10
Select toys for $20
Select toys for $30
25% off boxing day hockey equipment
We also remember select Ever After High Dolls from $26.96 getting reduced to only $15 each, including: Ever After High Enchanted Picnic Raven Queen, Ever After High Enchanted Picnic Cerise Hood, and Ever After High Enchanted Picnic Blondie Lockes.
Select Fur Real Friends were also reduced to just $30 including FurReal Friends Happy to See Me Pets Baby and FurReal Friends Happy to See Me Pets Piper, My Dancing Penguin Pet.
Boxing Day Walmart Houseware Deals
50% off open stock dinnerware, Baker's Choice non-stick bakeware
Boxing Day Duracell Batteries were $14.47 now $6.87
Boxing Day Tassimo Single Cup Home Brewing System was $89.88 now $48.88
Boxing Day Dyson discount, with $100 off Dyson Vacuums
We also saw Rubbermaid 28PC TakeAlongs Food Storage Set is a hot buy at only $8.88 in 2016.
More Walmart Boxing Day Deals
50% off all Christmas decor merchandise
Movies from $2.94 each
40% off selected winter or all-season tires
25% off hunting apparel
25% off snow sports merchandise
50% off Health & Beauty Gift Sets
The offerings this year promise to be good, maybe even better than those we scored in 2016, with deep discounts on a wide range of products including big-ticket items and everyday essentials. And if Santa doesn't deliver everything on your wish list, Walmart will! With FREE SHIPPING on each and every order of $50 or more, you can be naughty and still take advantage of this year's Boxing Week deals!
So keep your eyes peeled for those Boxing Week flyers, Canada! Bargainmoose will have those as well as a summary of this year's best bargains from Walmart and www.walmart.ca.