Chapters Indigo Boxing Day Canada Sales & Flyers 2018
Updated: Dec 24, 2017
The Biggest Boxing Week Sale @ Chapters Indigo
I honestly couldn't believe how incredible Chapters Indigo's Black Friday sales were, and they really outdid themselves again with Boxing Day! It's not even Christmas yet, and you can already score amazing deals in their stores and online!
Let's start with the biggest sale of all. This year, Chapters' main event is the code BOXING30, which you can use at checkout for an additional 30% off existing markdowns!
Check out some of the things you can score for an extra 30% off:
And seriously, I'm not kidding when I say there are plenty more deals where those come from! I'd probably start with the sale section first (just since those items will probably sell out right away), but Chapters has a few more deals definitely worth your attention:
40-50% off Top Books of 2017

20% off Melissa & Doug Toys
And so many more! See the complete list of deals here.
Orders over $25 ship free.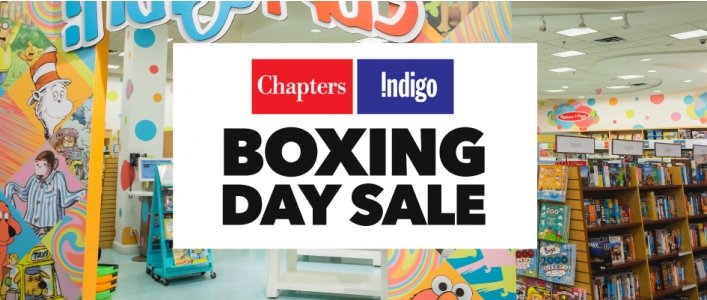 Chapters Boxing Day 2017
Chapters Boxing Day deals are something to be treasured, for sure. In the past, Chapters has offered up to 75% off on books, toys, electronics, lifestyle and home decor.

See what's on sale now at Chapters Indigo.
These were some of the deals what we saw last year:

Up to 50% off Toys
Up to 75% Off Gifts and Lifestyle
Under $10 Bargain Books
Up to 50% off Electronics
Free Kobo Mini With Purchase of a Kobo Ark (DEC 26th start!)
There are also some Boxing Day deals that were online-only deals, like:
Up to 60% off select books
Up to 50% off Music and DVDs
Thought they haven't announced what Chapters 2017 Boxing Day sale will include, we can say that in 2015 the Boxing Day deals included an extra 10% off with Visa Checkout! Get various deals on books, DVDs, electronics & more.
The Chapters Boxing Week sale attracts everyone from bookworms to gourmet food lovers, so you can expect this year's bargain extravaganza to have something for everyone. The sale kicks off online on December 25th, with deals on pretty much everything on www.chapters.indigo.ca.
We are predicting good reads at up to 85% off, electronics at up to 50% off, home and style items at up to 75% off and for that little person in your life, toys and baby things at up to 75% off. Chapters' regular shipping deal applies to Boxing Week purchases with free shipping across Canada on orders over $25. For those looking for in-store bargains, Chapters will offer 30% off hardcover books (with some exclusions) starting on Boxing Day, December 26th. The discounts are good and popular items sell out fast, so shop early for the best selection.