Ardene Boxing Day Canada Sales & Flyers 2018
Updated: Dec 27, 2017
Up to 70% off for Boxing Week @ Ardene
Okay, Ardene's Boxing Week Sale is HUGE! You can shop up to 70% off and they're throwing in free shipping!! You have to check out these deals.
I'm in love with this cabin hoodie and sweatpants that are buy 1, get 1 50% off. And will be adding them to cart along with some other winter wear.
While some items are up to 70% off, others are BOGO 50% off, but don't worry, it's all clearly marked on the site.
Here are some other great finds:
As an added bonus, Ardene is offering free shipping, no minimum purchase required, along with these Boxing Week Sales. Happy shopping!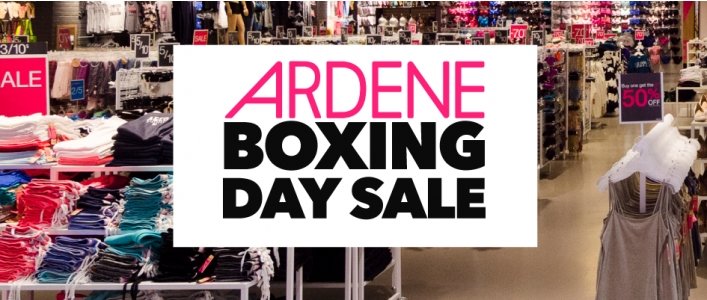 Ardene's Boxing Day sale is right around the corner, and we're predicting some killer deals. If it's anything like last year's sale, there will be an entire selection of clothing that is exactly 70% off their original price.
During last year's boxing week sale, Ardene also offered free shipping on all orders of $30 or more. This is a lower minimum than usual and it should be easy to reach it!
Some of our favourite deals from last year included:
An Olive Puffer Jacket that regularly retails for $69.50, down to $20.85
A Black Faux-fur Jacket that was originally $59.50, came down to $17.85
A Midnight Black Down Jacket that was originally $59.50, was marked down to $17.85
A Black Leather Jacket with plaid liner was originally $44.50, you could score this jacket for just $13.35.
You gotta move quick on this sale because the sizes are always quite limited! It is worth going through the entire sale looking for your size as the discount at checkout is so steep. Visit us again soon for updates.