Roots Canada Promo Codes & 60% Discount Sale Too!
I'm quite partial to a few of the clothing items from Roots. I really like their hoodies - perfect for inconspicuously robbing stores in the dead of the night.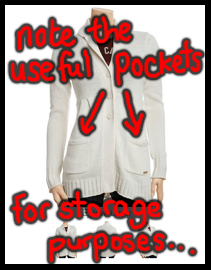 I don't know the expiry date of this one. :) UPDATE: The coupon is due to expire onFebruary 28th, 2009. But a $30 discount on a $100 spend is pretty decent.
They have a sale on right now, with many items up to 60% off!! All the applicable items on their site are already discounted down. To see it, it's at position 2 in the big advert when you land on their site. This could be a perfect opportunity to grab a few bargain clothing deals. Let me see what I can find:
Ladies, check out the "Millie Button Up Cardigan" reduced from $98 down to $49.98. It's a real cutie. And it has huge pockets in which you can store anything you want… candy, gerbils, love letters, cocaine…
For the lads, check out the "Royal Peruvian Plaid Scarf" which has been reduced from $58 down to $22.98. It's made from Made from 100% Luxurious Baby Alpaca!! I actually had to google that to see what an alpaca was. I think they should have worded it "Made from 100% Luxurious Baby Alpaca Wool" as I thought it was made from the whole animal.
There are also a few bargains in the kids section too… such as the "Boys Warmth Hoody" reduced from $26.99 to $14.87. It's black as the blackest night. Or the "Girls Long Sleeve Bow Tee" for only $9.87… what girl could live without such a bow round their neck?
There are even possible Valentine's gifts on there… see what you can find. :)
UPDATE - Free leather heart keychain with every order too!