32% Off Paw Patrol, Hatchimals & More @ Chapters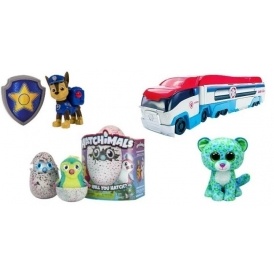 Earlier I told you guys about Chapters Indigo gift cards being on sale at Loblaws, Rexall and Real Canadian Superstore for 20% off. Head out now and get your hands on some discounted gift cards, because you can combine that discount with the 15% off this weekend for some excellent Christmas shopping discounts. Just use the code INDIGO15 at the check out process and pay with your newly acquired gift cards to get a total of 32% off popular toys and more that rarely go on sale.
Earlier, Eryn told you about the Paw Patroller that you can get for $54.37 with these combined discounts. She also wrote about the Paw Patroller Air Patroller that can be scored for $33.97 - which is stellar. There are loads of other cool toys to score as well. We also know the Hatchimals will be super popular and with these discounts you will pay just $61.19 which is by far the best price around!
The Paw Patrol Action Packs are immensely popular right now as well. They are regularly $9.95. After these discounts you will essentially pay $6.77 - can you say 'perfect stocking stuffer'!?
I'd also check out the Monopoly Pokemon Johto Edition which was $44.95 and will be $30.57 with this method. Also take this opportunity to stock up on Lego or anything of the sorts, of course.
The extra 15% discount expires at midnight tonight, and most grocery stores will be closing soon so head out now and get your discounted Chapters Indigo gift cards to reap the best benefits.