How to Get the Paw Patroller for $54.37 @ Chapters Indigo!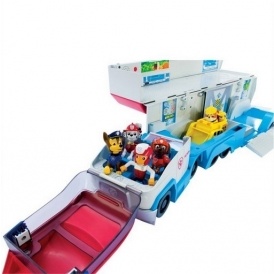 Paw Patrol Paw Patroller is the ultimate rescue vehicle and it's going to be on a lot of Christmas wish lists this year. This is definitely my chance to grab one of these before the Christmas rush starts! The Paw Patroller includes Ryder and his ATV vehicle. It can hold 3 Paw Patrol vehicles inside and displays 6 vehicles when open. It even has authentic Paw Patrol sound effects, just like the TV show. There's a working elevator, too, to take the pup vehicles up to Ryder's Command Center!
Chapters has 15% off this weekend when you use code INDIGO15 during checkout, but prior to that you will want to grab your Indigo gift cards for 20% off at Rexall, Loblaws, or the Real Canadian Superstore.
You may use these gift cards online to pay for your purchase, and this will put the Paw Patroller at $54.37.

You can purchase this only online at Chapters Indigo, as they do not carry this item in store.

Shipping is free!