Lightning Deal! Le Creuset French Oven 42% Off @ Amazon.ca (EXPIRED)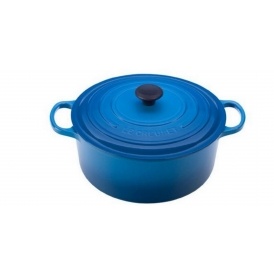 This large Le Creuset 8.5-Litre Round French Oven, in blue, for $300, (regular price $515), is the perfect cookware for a dinner party. Lightning Deals at Amazon.ca go fast, so head over there now. This item is already 90% sold out and won't last much longer!
We went for dinner recently at a friend's house—she had prepared a recipe of mine but it didn't taste the same at all. It tasted MUCH better. I asked her what she had done differently. It was the same recipe, but she cooked it in her Le Creuset French Oven. I had heard about these, they are notorious for being the benchmark of cast iron cookware.
The Le Creuset French Oven is incredible for making one pot meals in the oven, because of it's superior heat distribution. This is a generations old technique of cooking and it shows, it has certainly stood the test of time.
I love that it withstands temperatures up to 500-degree F! The long-lasting exterior enamel resists chipping and cracking. This is truly beautiful cookware. A real must-have for any chef. And an item that you will have forever.

Free shipping as always at Amazon.ca for purchases over $25.
(Deal Expiry: April 25, 2016, or when this item is 100% sold)