Amazon Canada: Born Free Classic Bottle Gift Set Only $42.34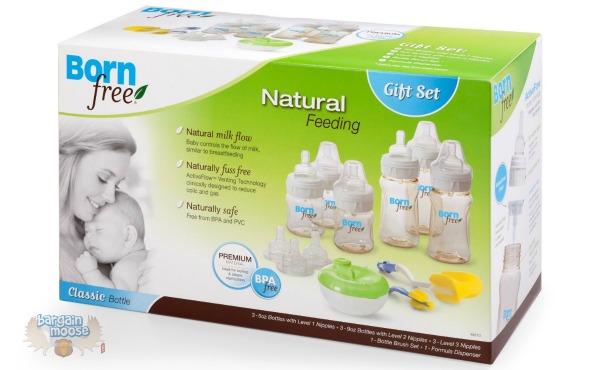 Amazon is selling the Born Free classic bottle gift set for only $42.34, was $69.99. I price compared at Well.ca and Toys R Us and both are selling it for the $69.99 price tag, so this is a great deal saving you $25.
I used the Born Free bottles when my kids were younger, once they were done breastfeeding or to supplement. I had originally bought Avent for my oldest, and then we had the BPA scare so I threw out every one of my bottles and bought the Born Free instead. They are BPA-free and dishwasher-safe, made of a durable material. Once my kids were all done with bottles, I passed on my Born Free bottles for a friend to use. I remember not liking the Avent anyway because I found they always leaked and when the Born Free didn't leak, I was glad I ended up throwing out the other set.
The set comes with three 5oz bottles with level one nipples, three 9oz bottles with level two nipples, three level three nipples, a bottle brush set and a formula dispenser. My only issue with these bottles was that I couldn't find replacement nipples, but with this set, you have all the nipples included that you need. I was stuck with level one nipples until I found an obscure online store that could send them to me. I don't think this will be a problem now since that was a few years ago.
The reviews are amazing for these bottles, so you don't have to take just my measly word for it. Check out this one:
I have tried just about every bottle on the market, hoping to find one that my breastfeeding baby would accept. Finally, I happened upon this one. I love it, and so does my son! The vent system keeps the baby from having to let go of the nipple every so often to keep it from collapsing. And no matter what, this bottle doesn't leak! Furthermore, I really like knowing that there are no chemicals leaching from the plastic into my baby's milk. And my son likes the nipple much better than the firmer Avent nipple. A great product!
Shipping is free for this item.
(Expiry: 21st July 2013)