Garage Clothing: Free Shipping, $25 Cash Card With $75+, $20 Sale Event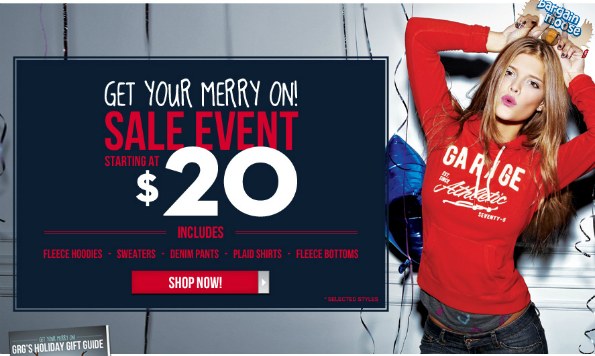 Garage has a nice selection of deals right now. Get free shipping with no minimum through the 19th, with every purchase of $75 or more get a $25 cash card which you can spend in January, and they are having a big $20 sale event with many of their popular items discounted to $20.
No coupon codes are needed for any of this.
I checked out their $20+ Sale Event and found some nice deals. I stashed a couple Fleece Popover Hoodies in my cart, originally $36.90, now $20, and topped it off with 2 pairs of Sulfer Blue Skinny Jean, originally $39.90 - now only $20 each. This would have cost me $153.60 for 2 hoodies + 2 jeans, but with this sale my cart total was $80, plus I get the savings card and free shipping.
Free shipping ends 19th, December @ 6 am. Free cash card ends 20th, December 2011.