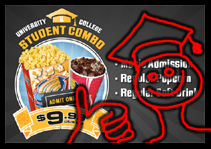 If you're a cheapass lazy student, I've got an entertaining bargain for you! If you show your valid student card @ Empire Theaters, you can get the bargain-licious deal of a movie ticket, a regular popcorn and a regular pop for only $9.99. Considering the over-extravagant pricing on the concessions stand, this is a pretty nice offer.
And just think – while you're at it, you could even try sneaking into one of the other showings and watch some other movies for free!? Well, I guess I shouldn't encourage you to do that. I'm a huge chicken – I've never tried that. I don't want to get arrested just for trying to see some crappy movie that I wouldn't even pay to see.
A couple I know used to pay into one movie in the morning, and spend the whole day sneaking into movie after movie, perhaps watching 3 or 4 movies that day. I couldn't do this… I don't like to miss the start of a movie. In fact, it's one of my many pet peeves!!! The last movie I missed the start of was "Cloverfield" and I had absolutely no idea what was going on for the rest of the show. Absolutely. No. Idea. Giant. Terrifying. Rampaging. Aliens. No. Idea.
(Valid 7th January – 30th April 2009 in ON, AB, MB, BC)