Lightning Deal! Jackery Premium Portable Charger Was $90 Now $27 @ Amazon.ca Boxing Day Sale (EXPIRED)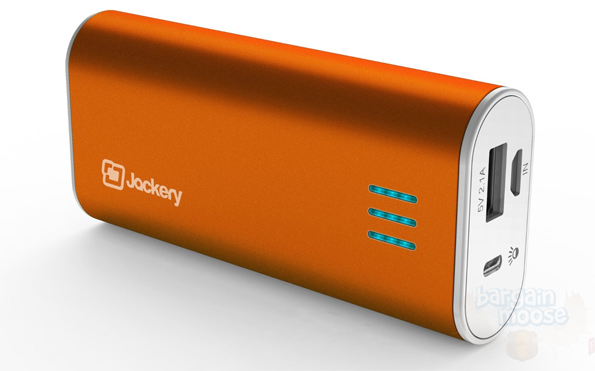 Does your phone or tablet need a battery boost? The Jackery Premium Portable Charger will give your battery life an extra boost while you are on the go. This item was $90 but is on sale for only $27 and qualifies for free shipping.
The Jackery Premium Portable Charger is an item I use almost every day myself. My parents love gadgets and usually pick out a gift for close family members that is the top of whatever tech gifts are available that year within their price range. This was their pick a few years ago and our whole family uses these chargers now. I have a brother who is a teenager and loves to game on his device. He is always popping his device on to this little charger when he needs a boost. He has this sleek orange version and I know some of his classmates wish they had one too.
From experience of using this charger, it does charge super-fast. This specific charger has 6000mAh battery capacity.  This one has also been updated to include a lightning cord but any device you can plug into it using a usb can be charged on this charger. I have personally popped my own device on to this charger over plugging it into the wall when my battery is about to die because it will charge faster. I typically get 2-3 full charges out of my ipod touch or ipad. I have personally used this charger to charge speakers, phones, tablets and cameras on the go.
Jackery claims this is a premium device and this time I think you should believe them. I'm still using my first Jackery two years later with no issues. My brother who is a high use user is only on his second charger. I think he may have misplaced the first one accidently.
The Jackery Bar was picked by Ipick.ca as a top five in the articles "5 of the Juiciest Portable Battery Chargers Money Can Buy"
The Jackery Bar is genuinely portable and it will slip into your pocket or bag easily. It's comfortable to hold and the aluminum helps to dissipate heat. You can get a couple of charges out of this for a high-end Android smartphone.
Reviewers on Amazon.ca are digging it also- it scores almost a full five stars with 30 reviews. Here's one reviewers experience:
I just returned from two weeks in Amsterdam and Paris and suffered from battery drain on the Iphone, Ipad and Nikon camera. Our travelling companions had two of these chargers so he lent one to me for the trip. 5 days into our travels, I got online and ordered 2 for myself from Amazon. This charger is amazing. Quick, compact and easy to use for all the devices. I am ordering 5 more for Christmas gifts for the kids.
I price compared around and no one is really selling these. What a shame, these other retailers are missing a quality product. What I did find is the regular portable charger typically is in the $20-$80 range but most of them do not have great reviews and have a lower battery output. Many also include a standard cable and not a premium Micro USB to USB 2.0 cable which means these devices are not designed with the faster devices in mind.  At $27 you are still in the lower end of that range, most of which on the lower range do not have a big battery capacity. Skip the cheapie batteries and check this one out instead while it is a great deal.
Check out Amazon.ca's Boxing Day Deals on the dashboard. You can see all of the store's boxing day deals in our forums.
(Expiry: 28th December, 2014)