Luggage & Accessories From $3.99 - Up To 73% Off @ Bentley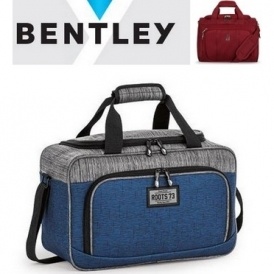 I am in love. With a piece of luggage. This Roots Grey Tote is just a stunning collaboration of colours that is soothing to the eye. The quality is top notch because 1.) It's Canadian, and 2.) The brand is Roots, which is infamous for it's quality. The price on this is only $31.99 and the manufacturer's suggested retail price is $80!
Saving 60% off of the Roots Grey Tote is great, it will leave you more money to spend on something like an RFID wallet, to protect and keep your credit and bank cards safe not just on holidays, but anywhere you go. I'm surprised to hear advertisements for RFID wallets pertaining to 'use this on holidays.' How about on a daily basis, wherever you are? It's a good idea to be safe wherever you are.
I like the look of this RFID Hardside Card Holder for my husband, and it's on sale for only $3.99! The regular price was $6.99. This one would make a great gift for my Dad, who loves vintage automobiles. For myself, I think I will go with a floral look.
Bentley Canada is offering great sale prices on many of their luggage and accessories, with prices going as low as 73% off of the suggested retail value!
A pet peeve of mine with many tote bags is lack of a zipper. How on earth do people 'tote' things around without a zipper - doesn't stuff fall out? I'm one of those people who mentions to people they might lose their phone out of their back pocket, or out of a purse pocket, but I only say so when it is just about dropping out onto the floor.
Anyway, with this American Tourister Roadshow II Tote Bag, toting your belongings around won't be an issue at all, as this gorgeous bag has a zipper closure. It's on sale for $24.99, down from a suggested retail price of $100.
I love the durability and design of this Runway Elite Travel Tote that's on sale for 73% off! The sale price is $34.00, and it has a suggested retail price of $125.00. The pockets in it will make you feel very organized.
Shipping is free at Bentley if your order is over $75. Otherwise, shipping is a flat-rate shipping of only $10.

(Deal expiry: Unknown)