Toys R Us Canada: 50% Off Fisher-Price Deluxe Quick-Clean Portable Booster - now $22.47!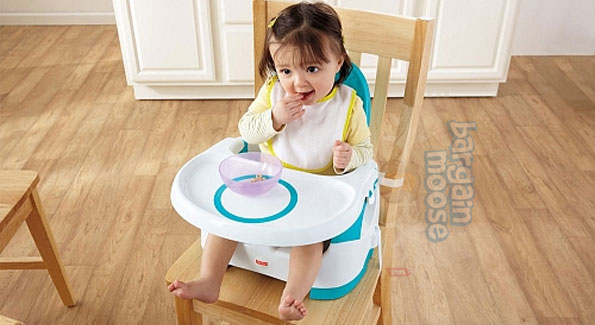 ** BUMP! This booster is even lower in price: now just $22.47!! **
Just yesterday the other day, Kristy wrote about the 3 Baby Items to Ditch from your Budget and luckily, a portable booster seat didn't make it on her list per se, though she did mention a cloth high chair. Toys R Us has a great deal on the Fisher-Price deluxe quick-clean portable booster, which is now 40% off and can be had for just $26.97 $22.47!
Let me start off by saying that this same portable high chair is actually currently sold out at Walmart, where it was priced at $29.97. Plus, the cheapest booster seat that you can get at the moment is $34.97. At Amazon.ca, the Fisher-Price booster seat is $50.49, though from sellers and not Amazon directly.
The Toys R Us site states that this booster has a $10 shipping credit which will work out at free shipping for some of you. However, those in some areas may have to pay a little extra for shipping. You can pop the booster seat in your cart to get a shipping quote there. Or, you can collect at store for FREE.
A couple of months after my baby was born, one of her grandfathers bought her a booster seat. At the time, hubby and I were super happy about the gift but if we could go back in time and pick out one ourselves, we definitely would. We have been using it for nearly a year now and it is beyond clunky. It's one of those that you strap onto a chair and while that's supposed to be a space saver, it really hasn't been for us. The whole booster with the dining chair is very clunky to move around the kitchen and we often have to play bumper cars with everything.
If we could go back and pick a new one, I would most likely get the Fisher-Price one because it's portable. Just that alone is a major advantage as it can easily be folded and brought along anywhere, or just folded and stored away at home.
It also grows with the baby as it has two height adjustments, two tray positions and eventually, it can be used entirely without the tray so that the child can eat directly from a plate on the table.
Reviews on Toys R Us' site are also beyond favourable for this booster seat: at 27 ratings, it has a general consensus of 4/5 stars, with reviews like this one:
I bought an Ingenuity high chair that wasn't good at all (the tray got stuck a lot) so I bought this one in the meantime while I researched other high chairs. This one is GREAT, and I might not even get another high chair, as long as this one keeps working wonderfully!!!
Alternatively, you can check out the Fisher-Price SpaceSaver high chain in teal tempo, which is currently 40% off as well but is slightly in price: $47.97, instead of its regular $79.99.
(Expiry: 10th September 2015)