Target Canada 2014 Boxing Day Flyers Out Now! (26-28 Dec In-Store Only)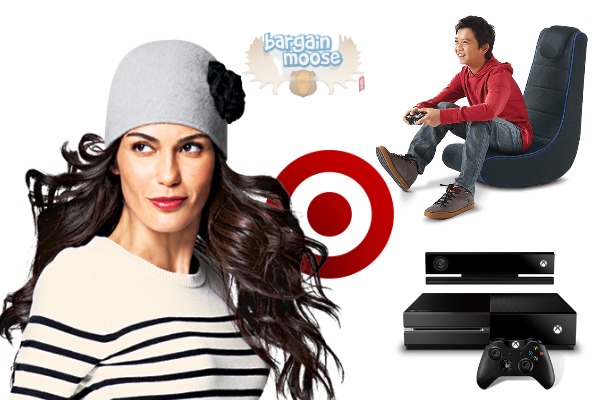 Target has just released their Boxing Day sales and they are ripe with deals to be plucked. Deals start in store only on Friday the 26th December and end Sunday the 28th December 2014.
Target has had a rough year here in Canada with its launch as it tried to win over Canadian hearts and pocketbooks. I find it tough because I really want to like this retailer despite not having an online store. Let's see what they have brought to the table for Boxing Day to win us over.
The first item I see as being worth standing in line at the store for is the Playstation 4 Little Big Planet 3 and NHL 15 Bundle for $449.99 plus $70 gift card for a total of $379. Looking around some of the competitors, most everyone has a version of the PS4 on sale this Boxing Day for $449.99. Walmart, Best Buy and Futureshop all have it bundled with one game. Target has sweetened the deal by adding two games instead of just one. Little Big Planet 3 is a popular game that is retailing for $40 to $70 and NHL 15 for PS4 retails for $70. Stack on top of that the fact that they are willing to give you $70 to come back in their store and you have saved an additional $110 to $140.
The $70 gift card deal is applicable to any PS4 console purchase and that includes the bundle. Supplies are limited so if the PS4 is in your sights, you may want to get there for Target's 6am opening time on Friday December 26th. If you have nothing in mind for that gift card, Target does have some shelf stable groceries so you could easily shave the money off your grocery bill for the month. I always am able to find something at Target that I both need and don't need so spending $70 for me never seems to be an issue. One trip down that shoe section is all it takes! Even betteris the fact that they just started carrying TOMS shoes and products, I could easily fill my cart with TOMS.
Another great find is the Kitchenaid 10 Piece Cookware set now at $69.99. You will save 65% on this aluminium cookware set. I know this set personally as it was the first set I purchased when I finally upgraded from my mother's hand me down pots. Those brown pots I had from mom did the trick while I needed them, but I much preferred the cheery red Kitchenaid set. While not an expensive set and made of aluminium, the set holds up nicely. I would give this to someone going off to university for the first time.
A few more deals that look hot enough to venture into the store for include the video game selection. Select PS4, Xbox, Wii and DS Games on sale for $15, $30 or $45. This includes Halo, Super Smash Brothers, Call of Duty and Destiny in the $45 range. These more popular games normally retail for around $70 so you are saving 35%. If you just got a new system or purchased that PS4 bundle made sure to check out any other deals on games.
Target has a lot of other household goods and electronics on sale. You can tell they're trying to keep up on the Canadian market. I would give them a second look for my Boxing Day Shopping.
Here's the full Target flyer!
[gallery link="file" ids="200804,200805,200806,200807,200808,200809,200810,200811,200812,200813,200814,200815"]
(Expiry: 28th December, 2014)