Babies R Us Canada: 25% Off Jolly Jumper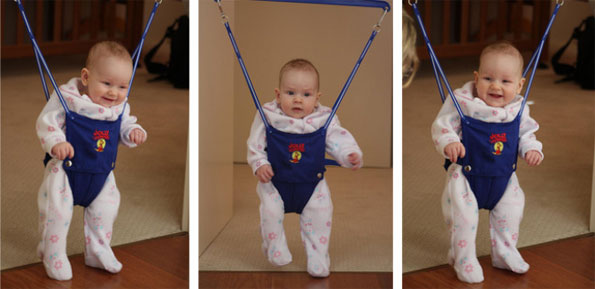 Babies R Us has a great deal on the Jolly Jumper right now. For a limited time, you can save 25% on both the original one and the one with a stand.
Having only recently found out that sitting a baby up too early may not be the best for their spinal development, my initial thought at seeing this jumper was with regards to its impact on posture. Turns out that it's actually designed to improve balance, coordination and strengthen muscles, all the while providing firm support for the spine.
Here's the price breakdown for both:
Original Jolly Jumper: reg. $49.99 / now $37.47
Jolly Jumper on a stand: reg. $79.99 / now $59.97
As my little one is going on three months, I will most probably be getting the one with the stand because there is no doorway in my living room and I would prefer to have her bouncing around in whichever room we're in. The only issue with the one with the stand is that it's quite large, according to the reviews, and I envision that I may need to move the coffee table to the side when I place her in the Jolly Jumper. The Original one, on the other hand, attaches to a doorway with a clamp. In either case, your baby will be 100% safe and secure as he or she bounces around, especially as evidenced by the countless reviews online such as this:
LOVE LOVE LOVE this thing. My daughter could spend all day in this if we let her. I love seeing her in as she is so happy and gets so excited. She learned how to bounce really quick and when she gets going fast she puts her legs up and swings in it and laughs and laughs, and she has also learned to dance.
Price comparing both of these jumpers, I found that Babies R Us' prices are definitely the best ones across the board. In fact, Amazon.ca even has the one with the stand for as much as $120!
Although it's not on speciel, this is cheaper than anywhere else; there is a musical mat available for purchase at $19.99 by the same brand. It comes with three music nodes that activate when the baby touches them.
While shipping is free for the Original Jolly Jumper, it's $10 for the one with a stand.
(Expiry: 3rd July 2014)
(Image Credit: Richard Austin)