Fido: Unlimited Plan for $56 a Month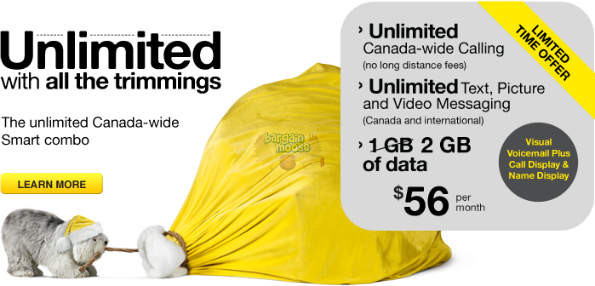 Fido Canada has one of the best plans I have seen in an eternity. For only $56 a month you get everything a busy on the go Mooser could need.
Here is what this plan includes:
Unlimited Incoming and Outgoing texts
Unlimited Outgoing international texts
Unlimited Picture and Video messaging
Unlimited Anytime Minutes
Unlimited Incoming calls
Unlimited Evenings and weekends
Canada-wide long distance
2 GB Data
Ahem - I don't think anyone can find anything better. If you are picking up a phone from Fido,  you will need to go on a two-year contract with them. If you already own a phone and want to bring it over to Fido - it will only cost you a $35 activation free. They will even migrate your phone number over.
I usually don't post about strictly in store deals... but this one rocks. Head to your local Fido (mine was in my local Future Shop) and sign up for this stellar deal.
Do note: not available in all provinces. See the store locator above.
I just brought my own phone over to Fido just for this deal. I did my research and couldn't even find student deals that were better than this. So far their customer service has been exceptional.
Expiry: Soon. I talked to a representative and they said the deal was expiring VERY soon.