Run Away From Zombies With Reebok's Ex-O-Fit Plus Hi Shoes: Only $33.75 (Expired)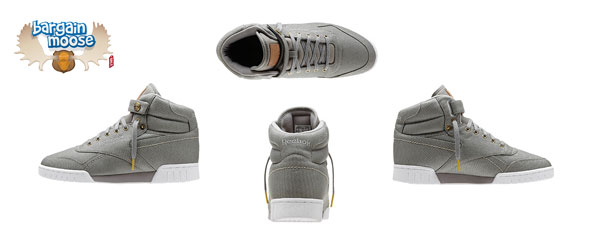 Have you already come up with a list of resolutions for the upcoming year? If getting fit is on it (or even if it's not), then I suggest you take a look at Reebok's Men's Ex-O-Fit Plus Hi running shoes which you can get for $33.75 right now.
A name like "Ex-O-Fit" may just be the motivation you need to get up and running to the gym. Sure, they may look like a regular pair of sneakers but in all actuality, they feature a shock absorbing midsole as well as a super durable rubber outsole to fulfill any of your sporting needs: whether simply by providing support while you lift weights or  while you are busy running away from zombies with the Zombies, Run! app available from both the Apple and Google Play Stores.
If you need any more convincing that these sneakers are the ones for you, then consider this: originally priced at $90, they're already on sale for $45 and are further reduced to just $33.75 during Reebok's awesome Cyber Monday sale. Plus, they are available in either grey or back and they qualify for free shipping!
If these don't tickle your fancy, then perhaps the Men's Twilight Zone Pump will. Originally priced as high as $140, they can now be yours for just $52.50 (also close to 63% off)!
Ladies don't despair, there is something for you too. Both shoes mentioned within this post are actually part of a much larger Reebok Cyber Monday sale with an additional 25% to be had on all sale items for men, women and kids along with loads of other savings sitewide as well.
(Expiry: 2nd December 2013)