Adidas Canada: 60% Off COC Fleece Hoodies - Now $30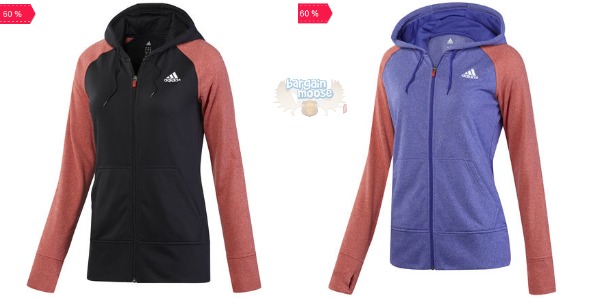 Adidas Canada has a sporting deal on Women's COC Ultimate Fleece hoodies. Originally $75 apiece, these hoodies are now on sale for only $30 each.
The COC Ultimate Fleece FZ Hoodie with contrast sleeve is available in three colour combinations:
black with red sleeves
red with grey sleeves
blue with red sleeves
All three jackets have the addidas logo on the front left breast and have Canada written in red across the back of the jacket (in white on the red hoodie). There is also a small Canadian flag on the hip of the jacket and the Canadian symbol and Olympic rings on the shoulder. These jackets are a great way to show your Canadian pride and are also very useful while traveling so you do not get mistaken for our friends across the border.
The hoodies are available in XS, small, and medium. They feature breathable climawarm fleece, which keeps you warm and lets your skin breathe. The sleeves have thumbholes (a favourite feature of mine) and the front of the hoodie features kangaroo pockets. So far, the hoodie has garnered two five star reviews from owners including this happy customer:
Love this jacket, wear it nearly everyday to and from the gym. Washes nice, looks great, and make me proud to have "Canada" printed access the back.
Another reviewer said:
This sweater is very cozy and comfy. It's warm enough to wear outside on a spring day or to and from the gym and cool enough to actually do some basic workouts in it.
Hoodies really are a multipurpose article of clothing in my wardrobe. I use them as a light jacket, a sweater, a cover-up when the mailman arrives and I'm not out of my pajamas yet, and also as a second layer when workout out on a cool day. The hood is great for keeping my head warm when I leave the pool with wet hair, and the thumbholes are fantastic for keeping hands warm on cool autumn days or when handling a chilly steering wheel in the morning. This hoodie comes with drawstrings so you can really pull the hood down if the wind is blowing hard.
Adidas offers free shipping on orders of $50 or more, so you may want to check out the rest of the sale section or buy two hoodies to qualify for free shipping.
(Expiry: unknown)