Ugg Bailey Button Now $125 @ Little Burgundy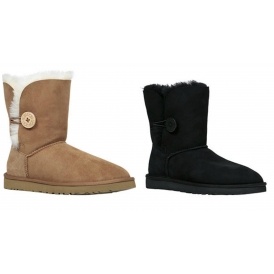 I can't remember the last time I've seen a price like this on Uggs! Usually when I see Uggs at this price, they are the ones that aren't selling. But the Bailey Button boots are very popular, and you can get them for just $125 at Little Burgundy online. And don't worry, they have just about every size left. You can get them in your choice of black or cognac.Their original price was $225.
I've owned both Ugg knockoffs and real Ugg boots. If you get a high quality knockoff, like Emu Australia's boots, they are just as good as the Ugg boots, but they are also just as pricey! The knockoffs aren't even worth the purchase, they will be ready for the garbage by the end of the winter.
I don't wear my Ugg boots as much during the winter now, because I live in a rural area where there's snow everywhere, even on the sidewalks. But if you are looking for a comfy, slip-on boot, Ugg boots are the way to go. At university, all the girls had them. They are just so comfortable to walk around in, and are easy to grab and go. I could use more slip-on shoes, I'm always breaking my boots forcing them on my feet!

Shipping is free on these boots since they are over $90.
(Expiry: Unknown)