SportChek.ca Biggest Sale! (BOGO 50% Off Footwear, 50% Off Apparel, etc)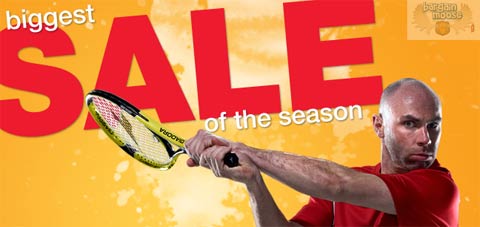 Right now, SportChek.ca is promoting their "biggest sale of the season." While I will take that claim with a pinch of salt, there are a few notable offers, if you need some new sports clothing or footwear.
Firstly, they're advertising buy 1 get 1 half price on footwear. Most shoes are available in this offer, but there are a few points to note:
2nd pair must be of equal or lesser value. "Top Pick" deals can be the 1st item but not the 2nd discounted item. Cannot be combined with Junior Footwear BOGO or any other BOGO offer. Excludes Golf footwear, Cycling footwear & items ending in .88¢.  Items must be purchased in the same order to qualify.
SportChek has these buy 1 get 1 half price offers fairly often, I've seen quite a few from them in the past. But if you need some new trainers or running shoes, then it's ideal.
Secondly, there is "up to" 50% off apparel. This includes swimwear, board shorts, athletic apparel, and golf apparel.
Thirdly, almost all sports equipment is on sale. If there was something in particular you were looking for, have a glance in there to see if it is a good price. The womens Bladerunner Pro 78 2010 Inline Fitness Skates are only $76.99 - these look like a good buy. I haven't been roller blading in years, but I used to love it!
My sister has just taking up running and is in training to do a marathon. She was telling me about this recent fad for barefoot running, which minimises heel striking and is very good for runners. You can't immediately start barefoot running though, as your feet are used to wearing trainers, with all the support that they offer. Apparently, you have to gradually work your way down through various pairs of trainers, which give less and less support and coverage as you go, until you eventually end up barefoot running. We've been barefoot hunter gatherers for millennia, so I think we can cope with barefoot running, regardless if there's a meal scurrying ahead of us!
(Ends 27th June 2011)