Little Burgundy: 20% Off Sorel Boots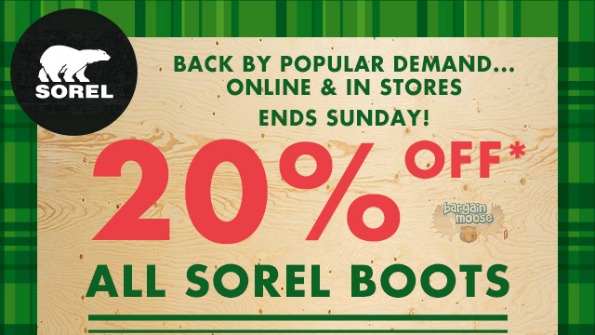 Little Burgundy is offering 20% off all Sorel Boots - men's and women's alike. This deal is back by popular demand!
Sorel Winter boots are actually built for Canadian winters. Look at these Sorel Whitegoat boots. They have a rubber bottom for all that dirty slush when crossing the road. The have a leather upper for a great fit when lacing up. The inside has a warm and cozy lining both for comfort and for insulation. They are the perfect winter boot. They originally were $190 and are now on sale for $152.
The Sorel Capellan is a great looking boot for men - they are weatherproof and warm for winter. On sale from $200 down to $160 they are a good investment that will last many winters to come.
I own a pair of Sorel boots and I love how absolutely warm and durable they are. The only difficulty I have is that they bite into my heels. They are suede knee-highs and am trying to figure out how to shape/mold the leather to fix that issue. I figure it is because I have such a large calf that it forces the leather to cut in around the ankle. Any suggestions would be appreciated!
Note: Extra 20% off does not include already on sale/clearance Sorel boots.
Free shipping on orders of $75 or more.
Expiry: 20th January 2013