John Fluevog Canada: Free Shipping Weekend (Save $16)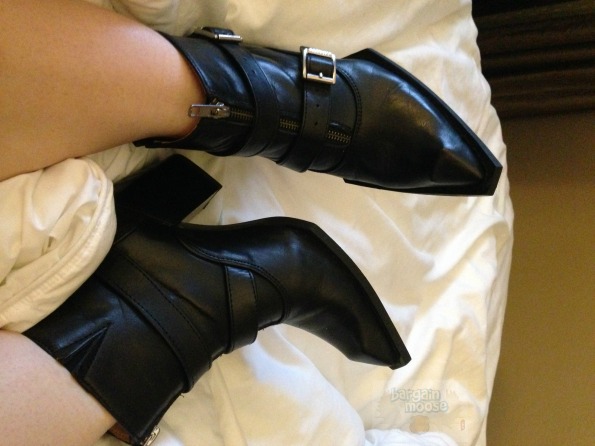 My favourite offer from Fluevog just landed: free shipping site wide with no minimum! Pick yourself up a snazzy pair of shoes from John Fluevog this weekend.
Anyone who knows me is keenly aware that I am no stranger to Fluevog. I own five pairs of their shoes now, though I owned six until earlier this month when I sold one pair on eBay, as they just were a bad fit for me. My other five pairs though, I would never part with them. Just think of Gollum and the one ring, and that is pretty much me and my Fluevogs.
Rather than randomly suggest shoes to you, I figured I would give you a tour of the shoes I would buy if A) they were available in my size and B) my budget allowed for it. Here are my top choices from the sale.
Firstly, the Minis Babycake is stunning. I want these boots so bad it just kills me. They are my new fixation but totally sold out in my size range. I am going to have to watch the Fluevog common and eBay in case someone wants to sell. The cherry and black is giving me a heart attack! Originally $455, these shoes are now on sale for $339.
The Swordfish Cooper is just one of those shoes I worship. I own two pairs of the Edwardian Swordfish (a high-heel version) in black as I totally missed out on buying a pair in red *very sad*. These shoes in true black are on sale in men's size 8. The swordfish line is sized in men's, but you just add one size on for the ladies. This would be equivalent to women size 9. (my Edwardians are a size 7 and I wear size 8 Fluevogs). Originally $285, they are on sale for $229.
The Hopes Promise is such a darling little shoe; I wish I had bought it when it was in my size. It looks to be the perfect shoe with everything from dresses to shorts. Originally $329, they are now $159.
Keep in mind the sizes are super limited! Fluevog makes shoes in a huge range of sizes, so often the middle sizes sell out first and either upper or lower sizes are left until the last. With a little patience though, you can sometimes find the perfect marriage of size and design. I have bought three pairs of shoes this way.
Shipping usually costs $16 a pair, so this is a nice deal.
(Expiry: 28th September 2014)