Pizza Pizza Cineplex Movie Passes (Expired)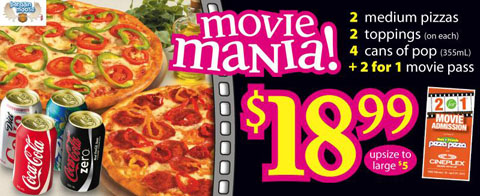 Get a Movie Mania or Pasta Al Forno combo and receive a 2 for 1 Cineplex admission pass!
Order a Movie Mania combo for $18.00 or Pasta Al Forno for $16.99 and receive  a 2 for 1 movie pass. Movie Mania includes 2 medium pizzas, 2 toppings on each pizza, and 4 cans of pop.Pasta Al Forno includes pasta for 4 people and garlic bread. Movie passes will be valid for use until 29th April 29 2010.
Also Wednesdays are Wild Web Wednesday, when you order online at Pizzapizza.ca, you will receive a 10% discount.