Motherhood Maternity Ultimate Nursing Event: B3G1 Free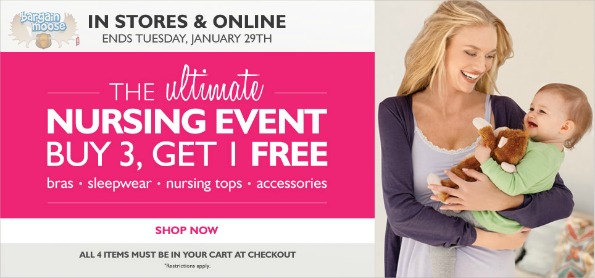 In stores and online until January 29th, Motherhood Maternity is having their Ultimate Nursing Event with a buy three, get one free offer on all nursing wear.
If you will be nursing, (or are currently nursing) an absolute must-have is at least one good nursing bra. Mainly, you need support and ease-of-use. I personally would not go with any sort of wire bra, as it may disrupt your flow, and they are incredibly uncomfortable. I like this seamless full coverage nursing bra, now on sale for only $24.99, regularly $29.98.
Unless you are sleeping topless, nursing sleepwear is a must. You want to be awake as little as possible while nursing your night-nurser. I quickly got the hang of laying on my side and nursing while I slept, so uncomfortable pulled up pajamas are not the way to go. This sleeveless scoop neck stretch fabric nursing nightgown would totally do the trick. Regularly $29.98, get it for only $19.99.
I'm sure you plan to emerge from your cocoon at some point and go into the world after having your baby, and the reality is that you are going to have to nurse your baby out there. They have some gorgeous clothing now that makes it super easy to feed your baby without whipping everything out, while still looking fashionable. Check out this sleeveless pull down mock layer nursing dress, now only $34.99, regularly $49.98. This sleeveless clip down double opening lace trim nursing cami is also a great nursing wardrobe staple at only $24.99, regularly $29.98.
If you purchase these four items, one will be free (item with the lowest price), so you can get everything for only $84.97 (saving you a total of $54.95 with all the sales). This sale is great for someone looking for gifts for a mom-to-be.
Shipping is $8.95.
Expiry: 29th January 2013