Free Personalized Photo Pet ID Tag, Just Pay $4.99 USD Shipping @ Shutterfly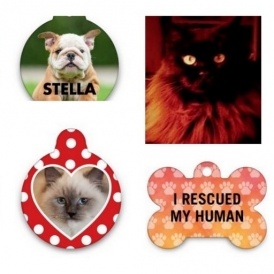 It's great to have a personalized pet tag engraved with your pet's name and your phone number in case they were to go missing, but what about a pet tag proudly displaying a photo of them? This also makes a fantastic gift for any pet owner.
Shutterfly is widely known for allowing you to create your own designs on numerous items using your own photos and they offer a TON of creative fonts. I was pleased with how easy it was to design my own pet tag. The program is speedy and definitely user friendly as well.
The cost of the Pet Tag is regularly priced at around $6.99 USD. When you use promo code LOVEMYPET during the checkout process, you will receive a full credit on the price of the tag, making the tag FREE and then you only need to pay shipping, which is around $4.99 USD.
With the free pet tag designs that you can choose from, some of them are double sided and this means you can place two different pictures on them! The variety offered is excellent, ranging from classic hearts and dog bones, to 'prettier' round ornament looking designs. They even have a Disney themed pet tag! There is a design to suit every beautiful cat and dog out there, and your personalization on the tag will only make it more gorgeous.
Shipping will cost around $4.99 USD.
(Deal expiry: June 8, 2016)