Escents Aromatherapy: 25% Off Lavender Bundle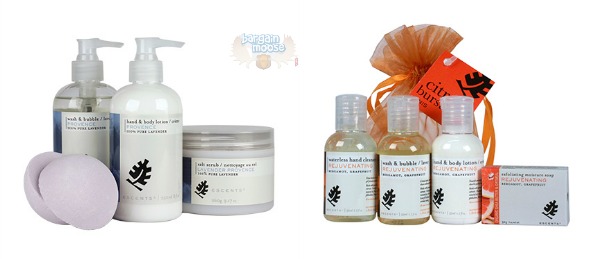 Escents Aromatherapy Canada is offering 25% off their lavender bundle currently.
The Lavender Bundle is designed to lower stress and relive tension. The products are made with 100% pure lavender essential oil for an aromatic experience every time you use one of them. Included in the bundle are the following products:
Lavender Provence lotion
Lavender Provence body wash
Lavender Provence Salt Scrub
Lavender Provence Bath Bomb
The bundle retails for $52.80 on a regular day, but it is now on sale for $39.95. I have tried some of Escents' products in store and the quality has always impressed me. I even bought a travel multi-pack of their essential oils at full price I was so impressed.
There are a few other deals on right now that I thought I would tell you about. If you are having trouble sleeping, then you might want to try out the Revitalize and Rest Diffuser Bundle. This web exclusive bundle is also on sale from $105.85 down to $84.95. Evidently this product was displayed on Forbes Living TV (pretty cool), which may be while the bundle is being featured right now. The set includes:
Lotus Ultrasonic Diffuser
Sleep Aroma blend with Chamomile and Ylang Ylang
Headache Relief Aroma blend with Peppermint and Lavender
I think I need that headache relief blend. The diffuser is popular because it breaks down the water and oil particles and infuses it into the air through mist without heat. This is important because heat can destroy the good within the oil, rendering it useless.
I must mention one other promotion because it combines with other purchases. When you spend $60 or more at Escents Aromatherapy, you can purchase this "Citrus Burst" Minis Gift Set for just $5, instead of the retail price of $12.95. The set includes:
Rejuvenating (Bergamot & Grapefruit) lotion
Rejuvenating (Bergamot & Grapefruit) body wash
Rejuvenating Milled Soap
Rejuvenating Hand Sanitizer
This would make a great travel set as all the items are small enough to be packed on carry-on luggage. You could also add these items to gift baskets you might make up around the holidays. I always like little additions like these.
Escents Aromatherapy Canada offers free shipping on orders of $75 or more. Shipping is $10 for orders under that. You can also try one of the coupons in our forum to see if the deals and the coupon will stack together.
(Expiry: unknown)