Up to $14+ off Top Sunscreens @ Well.ca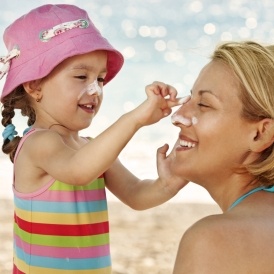 I wrote about some sun care options from Well.ca last week during their huge blowout sale but this week they've got a huge selection of fantastic sunscreens discounted--some by as much as $14.75!
Consonant is a great Canadian cosmetics company and they make a lovely (and pricey) sunscreen called, ambitiously, The Perfect Sunscreen. They've dubbed it perfect because it's 100% natural, has a solid SPF 30 rating, contains no carcinogens and a touch of mica tint for an even skin tone (natural mineral sunscreen agents, like zinc oxide, are what create that white cast that no one is fond of!). As I mentioned, it's regularly pretty pricey at $45 but you can save over $14 and snag a bottle for $29.25 right now.
One of my absolute favourites and the one I use on my baby boy's pale, precious skin every day is the Matter Company Substance Unscented Natural Sun Care Creme. Despite its lengthy name, it's awesome stuff. It is thick and white as it also uses natural sun screen ingredient zinc oxide, but with a tiny bit of persistence, it disappears after application. The usual price is $18.99 but it's on sale for $14.24.
There are many other fantastic, natural options marked down that are perfect for young, delicate skin (and you delicate skin, as well!) including Green Beaver, Badger and Kiss My Face.
Well.ca ships orders of $29 or more for free; delivery is $5.95 for orders below that mark.
(Expires: