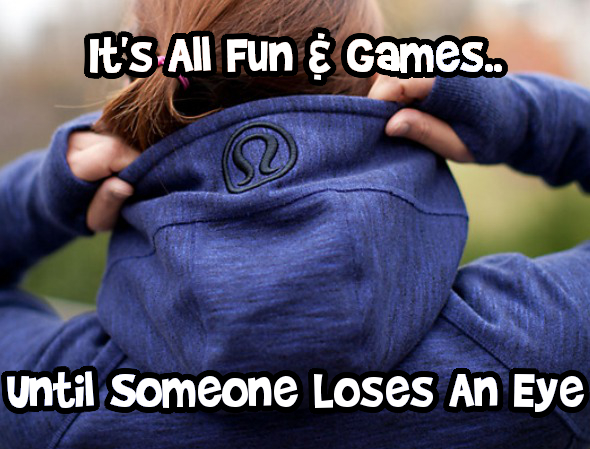 Love Lululemon? I would keep a close eye on your drawstrings if you have recently purchased a top from Lululemon Canada. There have been some reported injuries from these "Dangerous Drawstrings", so 185,000 tops have been recalled. User error or faulty product, what do you think Moosers?
Lululemon jackets, hoodies, tops, pullovers and tunics could pose a threat to your face if you have purchased them recently with the new drawstring design. These drawstrings have been known to snap back and cause injury to your face. At first I thought, why would anyone let it snap back and hit their face? Seems like more of a user error to me! But I guess it is a different story if you got it caught in something and then it snapped back. I am sure lots of drawstrings could cause damage that way, if they hit your eye or something. I personally feel that there is no need to recall, but there have been at least five incidents where injuries have been related to the Lululemon top and the "dangerous drawstrings". I almost want to make a fashionista horror movie - "When Dangerous Drawstrings Attack".
This Lululemon Canada recall was a joint decision between Health Canada and the U.S. Consumer Product Safety Commission. There have been 133,288 affected tops in the United States and 185.191 tops in Canada. These tops were made in Bangladash, China, Indonesia or Peru it looks like. There are a variety of tops and sweaters that were recalled, CBC.ca listed the following items as being recalled.
The tops come in a variety of colours and styles, including:




Carry and Go Hoodie
Cool Down Jacket
Course-ette Jacket
Cozy Up Jacket
Dance Studio Jacket
Dance Sweat Shirt
Don't Hurry Be Happy Pullover
Gratitude Wrap
Necessity Jacket
Proactive Jacket
Refresh Snap Up
Run Sun Blocker Pullover
Run Track N Field Jacket
Run With It Jacket
Sanctuary Jacket
Savasana Tunic
Sing, Floss, Travel Jacket
Stow'N Go Jacket
Stride Jacket
Summertime Tunic
Varsity Hoodie
Victory Jacket
Wear With All Jacket
CBC Canada reports that anyone who has purchased an affected Lululemon top should stop wearing it. Lululemon Canada has instructed people to remove the "dangerous drawstring" and request a new, non-elastic draw cord that will come with instructions on how to replace the cord. I don't know about you guys, but I have tried to replace drawstrings before and it was not easy. I think if I purchased a Lululemon sweater that may pose a threat, I would bring it into the store myself. It is all fun and games until someone loses an eye.
Moosers, what do you think of this Lululemon Canada recall?