La Senza Canada: 50% Off PJs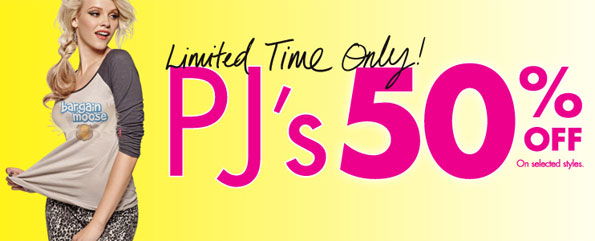 After countless sales that were limited to in-store only at La Senza, it's refreshing to see one online for a change! For a limited time, enjoy 50% off all select pajama styles.
Still shopping for gifts? Here's an easy one that is typically a sure winner: pyjamas! Below are a couple of items I found interesting from La Senza's sale:
In keeping with the holiday theme, you could for instance get the Raglan tee and legging set in red and black for either yourself or a friend. If you would much rather sport shorts instead, then I also spotted the long sleeve tee & short set on sale for $14.75 instead of $29.50. Though it's available in other colour sets, the one that would most match the current season and which looks just as great as the Raglan set is the candy apple red dot color.
Considering how pricey bras typically are, I also suggest you check out their other special, where you can benefit from a buy one get one 50% off discount on all bras (except those already on sale) and as usual, all cotton panties are also 8 for $30 . And although La Senza sometimes has free shipping available, right now there is a $9 flat shipping rate on all orders.
(Limited Time Only)