Orblue Silicone Stretch Lids - Fit Almost Anything! Just $25 @ Amazon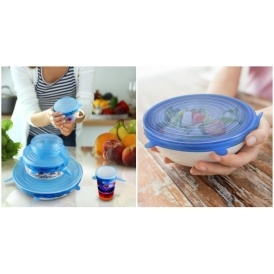 Do you ever come across a product and think, that's so ingenious yet so simple, I wish I had thought of it? I had one of those moments when I saw these Orblue Silicone Stretch Lids. They have a whole bunch of 5-star reviews so I have high expectations that they'll be a wonder product in our house! You get a set of six lids for $24.87. Prime members will receive free shipping; otherwise you'll need to top up your cart by a few cents!
These silicone storage covers come in 6 sizes and you receive one of each. They're round, but stretchy enough to fit over mugs, pots, cups and bowls. They're non-toxic, BPA-free, microwave-safe and heat resistant so you can keep food covered, for quick reheating, without worry. They're also safe to toss in the dishwasher, which means easy cleaning.
These lids will prevent us wasting rolls of plastic wrap covering uneaten baby meals. They'll also be great for those containers whose lids mysteriously disappear!
What do you think, Moosers? Would these be put to good use in your kitchen?
(Expires: Unknown)