Kids' Tees from $9 Shipped @ Roots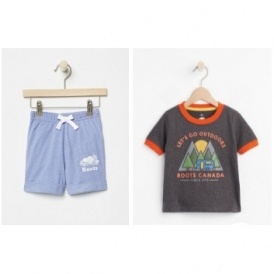 Roots is getting in the long weekend spirit by offering free shipping on every order! On top of that, they've still got their #sweatstyle sale happening where you can save 30% off all sweats (though more than just sweatpants and sweatshirts are included!)--even sale items! No promo code is needed for either promotion; the discounts are automatic in your cart.
This We Run This Camp T-Shirt for baby was originally $16 but has been marked down to $12.88. With the extra 30% off, it's just $9.02. Pair any of the tees with these cute Killarney Sweat Shorts for just $10.42.
For toddlers, I love this Max Ringer 'Let's Go Outdoors' T-Shirt that is also $10.42 with the additional discount and these Jasper Logo Shorts are the same price. These Jasper Bottoms have a funky print and, regularly $24, will be just $13.92 in your cart. These great little Jasper Festival Dresses are also $13.92.
For the older kids, the Bala Dress has the iconic beaver logo and drops to $11.82 and, perfect for fall, these Bookhou Organic Field Leggings are only $13.92.
Plaid shirts are all the rage this season and you can snag the Beckett Plaid Shirt for girls or the Club Lake Plaid Shirt for boys for $16.02 each. Pair them with a cute pair of jeans and they're all set!
Don't forget--all orders ship free of charge regardless of their total so you don't need to worry about the usual $50 threshold. Just shop away!