Gorgeous Ruby Gold Plated Ring Now $12 Shipped (85% Off) @ Amazon.ca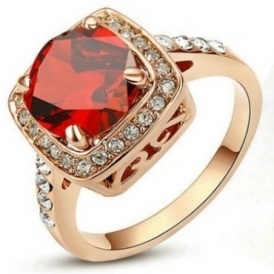 Ruby happens to be my birthstone - and also my favourite of the gemstones! Today at Amazon.ca, you can enjoy this Lightning Deal if you also like red crystals. This Yoursfs Gorgeous Fashion Cushion-Cut Red Crystal in 18k Rose Gold Plated Ring is on sale for 85% off the original price - which means it will only cost you $11.88 including shipping!
This cushion-cut ring is absolutely gorgeous. I love the center red stone as well as the crystal frame around that stone. I could only wish for this ring in true stones and real gold, but this will have to do! At just under twelve bucks, you can't go wrong.
Reviews say that this ring is super pretty, as well as real looking for the low price point. It is triple gold-plated so if you have allergies to metals and can only wear real gold or silver, then I think this ring would be fine to wear. I know my skin reacts to a lot of metals, but my gold-plated Charmed Aroma ring has not caused any issues yet.
Normally Amazon.ca requires you to spend $25 to get free shipping, but this Lightning Deal includes shipping and handling as well.
(Expiry: 20th July 2016)