Walmart Canada: T-fal Fresh Express Slicer/Grater Was $79 | Now $49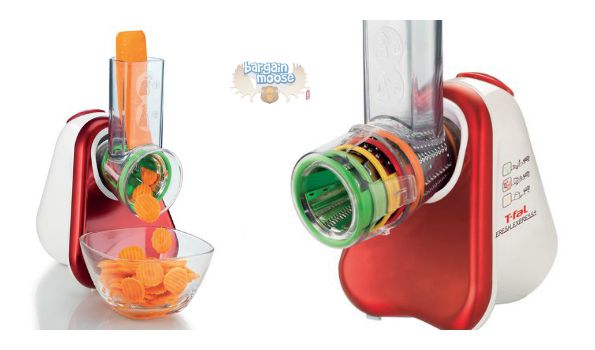 You don't need an expensive KitchenAid food processor when you have something as handy as the T-fal Fresh Express slicer/grater, regularly $78.77 and on sale for $48.77 at Walmart right now. Shipping is available when you hit $50, so check out something in the grocery aisle and get your total up that dollar and a half.
This tool is almost a must for those who want to start or continue clean eating. It has five attachable cones:
thin slicing
thick shredding
thin shredding
wavy slicing cut
grating
One of the things in my morning routine that I despise is making the kids lunches. I love giving them healthy foods to ensure a productive day at school so I shun packaged foods, but it just takes so long to prep! It takes especially long when I have kids under foot looking for shoes, whining about not wanting to go and finishing up last minute homework.
Having a tool like this grater will reduce my workload by half. I can easily give my children sliced cucumbers, shredded cheese and cool-looking wavy sliced fruit and carrots. At the end of it, I'll just pop it right in the dishwasher, which is also a huge perk (I don't like doing dishes in the morning either!).
While this is on sale, I always have my doubts if this is a worthy tool for my kitchen, so I read through the reviews with the majority being 5-star.
Bit noisy, but still one of the most favorite staff at kitchen so far. High quality, nice looking small French piece of machine. Highly recommended!!!
What I did read on the reviews was that it was not good at chopping onions, which is totally unfortunate, I hate that job too!
This reviewer mentioned that it is a nice French machine and that is because this machine was made in France, which is nice, especially for a buy from Walmart - not cheap and Chinese-made.
Looking around for similar prices, I found that stores sold this for regular price or even above. Shop.ca sells it for $80 and Amazon sells it for $75 with shipping. Best Buy sells it for $78.99.
(Expiry: Unknown)