Tommee Tippee Closer To Nature Perfect Prep Machine $99 (Was $150) @ Walmart.ca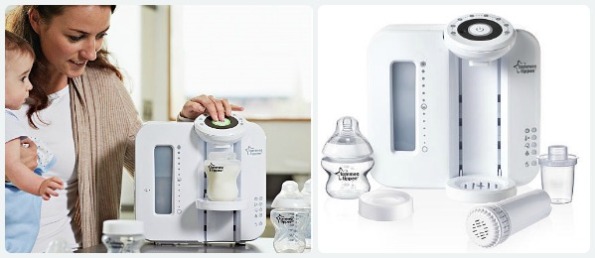 *Bump! This nifty gadget is now reduced in price!*
It seems like every year they come out with new nifty gadgets for raising kids. Wipe warmers, diaper genies, and now bottle makers! I wish they had a machine like this around when my son was an infant. Walmart Canada seems to be the first Canadian retailer to carry the new Tommee Tippee Closer To Nature Perfect Prep Machine, and is is priced at $149.97 $99.
Now this isn't so much a deal post, but rather a way of showing you this intriguing gadget that could save moms tons of time. This Closer to Nature Perfect Prep Machine will make your infant a fresh bottle at the perfect serving temperature in under 2 minutes. Essentially, this may be your new best friend if you have a newborn.
While the reviews on Walmart.ca did throw me off a bit, I found some reviews on Amazon.co.uk that assured me that this would be a cool product. Would you use something like this? I can't even tell you how many times I wish I had another pair of hands when my son was little, so maybe a machine like this would have taken a bit of the work load off? It would definitely be nifty to have while your hubby is at work.
This machine will filter the water, dispense the correct amount of water in ounces and make the perfect formula for your little one over and over again. The machine dispenses a "hot shot" of water that will kill bacteria and start to quickly dissolve the water, then it will fill the bottle with cool water to ensure that the bottle is delivered at exactly body temperature.
If you do wish to purchase this product, Walmart.ca has free shipping on all orders over $50 so you won't have to worry about any additional charges there.
(Expiry: Unknown)