The Bay Canada: Crislu Freshwater Pearl & Cubic Zirconia Necklace Was $95 | Now $39.89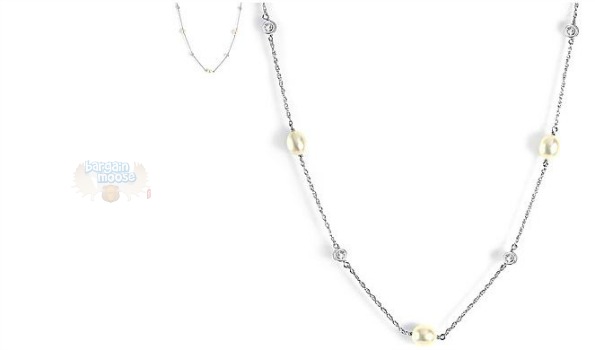 On a budget but looking for a nice necklace to give a certain special woman? The Bay Canada has discounted this Crislu Tin Cup Freshwater Pearl & Cubic Zirconia Necklace from $95 down to $39.89. Drop this in her stocking and see the smiles blossom!
It says that it is a three strand necklace, however, I only see one strand in the picture. There really are very few details about it - maybe because it is on clearance. Either way, I always believe jewelry and women go together very well. They always say it is the thought that counts - where i think it is 'showing thought' that counts. The jackass who gets his wife a chainsaw for Christmas (unless she asked for it) shows that he didn't put any thought into what she would actually like. Kind of like buying chocolates for your girlfriend who is on that diet. BAD IDEA.
However, jewelry is rarely a bad gift. Sure, once in a while there are women who don't wear jewelry: but you will know that very early in the relationship. For most women jewelry is a very thoughtful gift and one that can easily win you brownie points.
Expiry: Unknown