Sears Canada: Black Friday Preview Sale - Up to 75% Off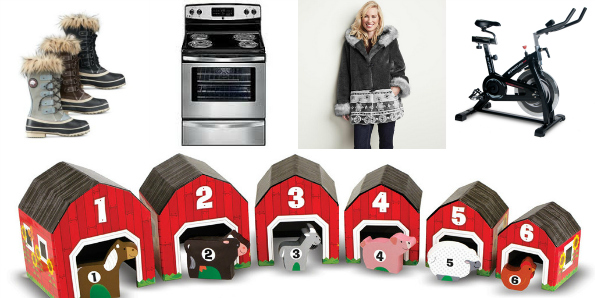 Sears Canada has started their Black Friday preview sale with up to 75% off toys, clothing, boots, appliances, and more. Shop the sale for great savings and free shipping on $49. If your total is below $49, you can always have your order shipped free to one of over 1300 Sears Store and Sears Outlet locations across Canada.
There are so many items discounted that it is hard to pick favourites to feature. I do think the Alpinetek Women's Tall Boot With Faux-Fur Trim is the perfect boot for this coming winter. The inner fleece lining keeps your feet warm and the faux fur is stylish. This tall style is perfect for walking through snow-drifts. Originally $109.99, this boot is now only $54.99 with free shipping. Choose from an array of sizes and colours.
For men, the Martino Men's Waterproof Commuter Boot is an excellent buy. This comfortable performance boot was $189.99, but is now on sale for $87.74 in regular or wide. That is 55% off the original price. I get serious Doc Marten vibes from this boot.
What is the number one New Year's resolution? I think it is either quit smoking or lose weight - I can never remember which one. If your New Year's resolution is to get fit, then pick up the NordicTrack® 'T6.3' 2.6 CHP Treadmill on sale from $2399.99 down to $599.99. That is 75% off the original price. $600 is about what you would spend on a gym habit over one-year (approx. $50 per month x 12 months = $600), whereas you get to keep this machine for years.
I prefer a bike to a treadmill. This Bladez fitness Stratum GS' Indoor Club-Style Training Bike was $699.99 and is now on sale for $229.99. I have a stationary bike and it is fantastic for exercising during the winter when I do not want to go outside.
Some people need new kitchen appliances this year. Maybe your fridge is on it's last breath of cold air and your stove is sputtering out. Both the Kenmore®/MD 30" Cooktop, White, C970-40032 and the Kenmore®/MD 30" Cooktop, Black, C970-40039 are $70 off their regular price. Originally $349.99, they are now on sale for $279.99 each. You save 67%.
The toy section is a marvel in and of itself. I just picked out this Melissa & Doug Nesting & Sorting Barns & Animals on sale from $24.99 down to $14.99. The same set is currently $29.99 at Well.ca.
Shop these deals and more during the Sears Canada pre-Black Friday sale on right now.
(Expiry: Unknown)