NordicTrack Heart-rate Monitor Only $39.94 @ Sears Canada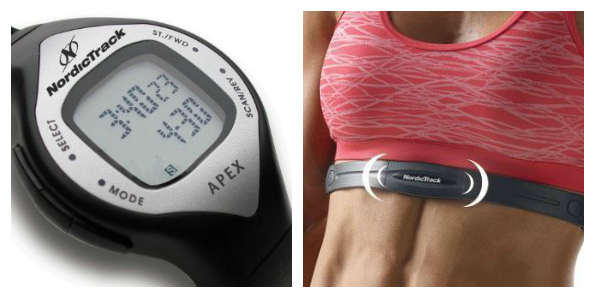 What is your New Year's fitness resolution for 2016? I have the same general 'get in shape' resolution I have had for years, so I figure I should make tangible goals. To get the most from your workout, make sure your heart rate stays in the optimal zone with this NordicTrack Heart-rate Monitor. This design of heart-rate monitor is one of the most reliable out there as it uses a chest pulse sensor that communicates with the monitor on your wrist. The original price is not stated, but it is on clearance for $49.94. Use the $10 off coupon code 941612528 to bring your new heart-rate monitor down to $39.94.
This wireless device continuously monitors your heart rate and transmits the readings to the wrist portion. The wrist monitor goes beyond heart rate: it also has a personalized calorie counter and stop watch alerts. There is an alert system that will tell you when you drop out of your optimal workout heart-rate range as well. It is a pretty cool device, and I am terribly curious how the calorie counter works. 
This wrist monitor DOES come with the chest pulse sensor. As I mentioned before, this is one of the most reliably-accurate methods for tracking heart rate. The band fits around your chest comfortably and can directly measure heartbeat from there. It wirelessly transmits that information to the wrist portion of the monitor where you can see the results.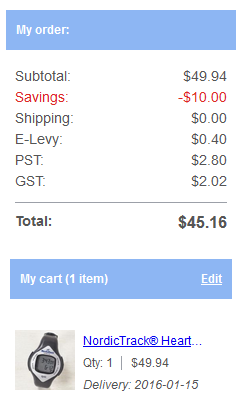 This is perfect for indoor and outdoor use. You can wear it while running on the treadmill, peddling the bike, or exercising on the elliptical. You can also wear it while running outdoors to monitor your heart rate there. I have worn one of these heart-rate monitors before (my parents had one with their treadmill). They are actually quite comfortable, though they do get sweaty when you get sweaty!
This is a fantastic way to make the most out of your workout. Keeping your heart rate in the optimal range will help you burn more fat and build more muscle. This is also a super affordable price for this device. For comparison, the Sportline version (same features) is on sale from $99.99 down to $89.99 @ Sears right now.
Both the chest strap and the wrist monitor run on replaceable batteries. Receive free shipping to one of over 1300 Sears Canada stores or outlets.
(Expiry: Unknown)