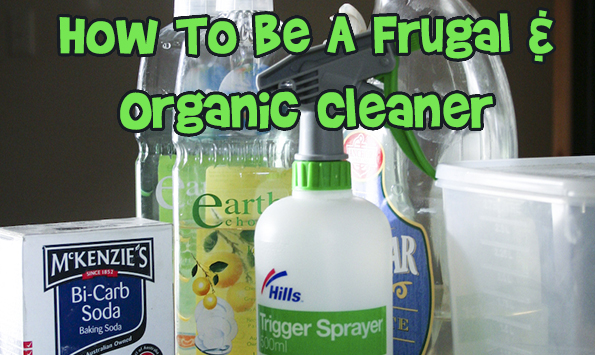 Do you spend too much money on cleaning supplies? You really don't have to, as there are many frugal ways to clean your home, and the best part is not only do they save you money, but they also are better for the environment and your health. Really, most chemical-dependant cleaning supplies are usually cheap and there is almost always a coupon for them, but the effects on your health are not cheap. I have phased out almost all commercial cleaning products in my home and where I couldn't, I buy organic and eco-friendly products, usually from Well.ca when they have a sale. Below I will give you some tips on how to clean your house without spending more than a few dollars.
Prevention
First, prevention is key to keeping a clean house. The old adage of "clean as you go" really applies here and saves you time and even money. If you let a mess sit and build, it only gets harder to clean. Think baked on spaghetti sauce on your stove top. Other ways to prevent messes include taking off your shoes outside, wiping your dog's feet before they come in, giving your dishes a slight rinse before putting them in the dishwasher, wiping down your shower or bath and your taps after using them and not having children. Okay, so the last one might be a tough one, but your kids can perform all of these actions as well.
Vinegar
Vinegar and I go way back. It is so cheap! I guess that's why we make great friends. Besides that, you can buy a large bottle of vinegar for only a few dollars and it will last quite a while. There are a million ways you can use vinegar to clean your home. I like using it as a disinfectant on my kitchen counters and keep a spray bottle mixed with about 20% vinegar and 80% water under the sink. I also like to use it in my laundry to freshen up towels that may have sat for too long. Mix it with dish soap and you can use it to clean your shower and tub, or your floors. Vinegar is so perfect… Vinegar Tips has those millions of ways to clean with it.
Baking soda
Baking soda goes on sale for about $1 a box and like vinegar, it has many uses. You can use it as a safe scouring agent for your toilets, stove tops and sinks. I love to use it with my best friend vinegar to clean the drains. Simply pour the baking soda all over the sink and down the drain. Follow slowly with vinegar and watch it fizzle as it cleans and unclogs the drain. End with boiling water. You can also use it to absorb odours in your fridge. For the multitude of ways to clean with baking soda, check out The New Homemaker. Another great use I found it for was to get rid of "boy pee smell" from my bathroom. Boy pee smell is when you have young boys (and probably some men) who aren't great at aiming quite yet and the smell seeps into your tile or bathroom flooring. It is a very nasty thing and baking soda and vinegar work well to cut this smell so your kids are allowed to urinate inside the house again.
Essential oils
While essential oils might cost more than a few pennies, you only need a teeny tiny amount, so they will last a long time. If you feel that using vinegar and baking soda just doesn't yield that "just clean" smell, essential oils will make your home smell fresh and not chemically clean. They are great for disinfecting and getting rid of mold and mildew, too. They also make great fabric refreshers, so your dog doesn't die from the Febreeze sprayed all over its bed. For one hundred ways to clean with essential oils, check out Mind Body Soul Essentials.
Pumice stones
What disheartened me at first when I started with natural cleaners was that if the toilets were too dirty, they didn't get a great clean from those products. Enter in the pumice stone. Very cheap to buy, this baby scrubs like nothing on that toilet guck and gets rid of everything except the white porcelain. Want to know how? Check out Apartment Therapy.
Castile soap
This soap can be both expensive or inexpensive to buy, depending on what you need. I buy Dr. Bronner's and while the liquid large bottle goes for $20, the bars of soap are only $5 and can last for quite a while. We use it to wash all of the floors and I love the lavender scent.
Citrus fruit
Lemons and other citrus fruits smell great, but they also do double duty as a cleaning agent that can remove stains and mildew. Another cool trick is to put a lemon in the microwave, turn it on for 30 seconds and your microwave will be easy to wipe down. I also like the idea of putting fruit that may be past its prime into a pot of water on the stove top and turn it on low. The scent will act as a natural air freshener. Lifehacker tells you how you can put lemons, limes and more to good use.
Old clothing and fabric
When my kids have clothes that are stained or torn beyond repair, if they are the right type of fabric, I will often cut them up and use them as rags and sometimes dishcloths. There is no point in throwing out perfectly useable clothing and spending money on buying new cloths to use to clean. Similarly, if you have some wool kicking around, you can make thesewool dryer balls that will save you money (and the toxins) you would have spent on dryer sheets.
Bargainmoosers, do you have any ideas for natural cleaning ideas that won't squeeze your wallet? Let me know in the comments below!
(banner image credit: go_greener_oz)