Costco Canada: Mio Triumph Heart Rate Monitor Only $69.99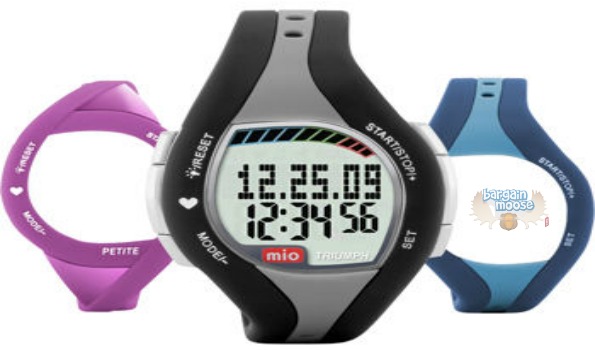 Costco Canada has the Mio Triumph SE heart rate monitor, plus two additional bands, on sale for $20 off, now $69.99. I couldn't find a comparable price to this at any other online store.
Considering getting more exercise tops many people's new year's resolution list, I thought this item would be very helpful.
The Mio Triumph is a watch that has tools to help you reach your weight goals. The heart rate monitor provides an accurate heart rate, without using a chest strap. It gives you a visual indicator of exertion level during your workout, which helps you train more effectively. Depending on your goals, your target heart rate will be a percentage of your age. For example, if you want to lose weight, your target heart rate is different than if you are trying to increase your cardio endurance. You can increase or decrease your exertion based on what the watch tells you. Also, you can figure out your resting heart rate, which is a good indicator of overall fitness.
It also features the innovative and patented Mio Calorie Management System, which allows you to track your calorie intake through the day and your calories burned through exercise. Set a calorie target right on the watch to see where you stand.
In addition there are five exercise timers with the time, date, an alarm and a luminescent back light. It is even water resistant up to 30 metres, so it works for swimmers!
Shipping is included in the price of the item.
(Expiry: 20th January 2013)