Oster Mykonos Greek Yogurt Maker $35 & Free Shipping @ Amazon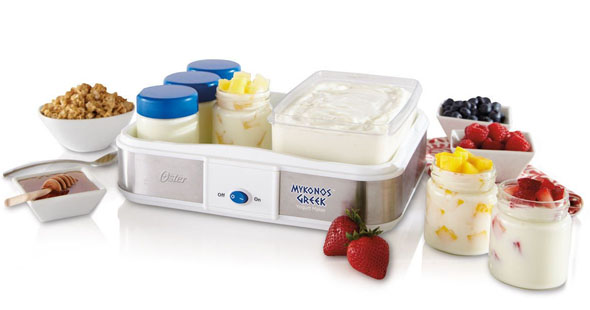 Eating healthfully is a constant struggle for most people due to our perpetually busy lives and all the temptation we face. It's widely known that protein helps you feel fuller longer so Greek yogurt has gained a large following in the last few years, but it can be very expensive - a store brand that I quite like is $4 for a small container. I guess twice the protein means twice the price! I came across this Oster Greek Yogurt Maker on Amazon and was very intrigued. Bonus: it's currently 19% off and only $34.98 and Amazon will ship it to you for free!
Greek yogurt is made by straining out the liquid whey so only protein-rich solids remain. The Oster Mykonos Greek Yogurt Maker comes complete with recipes so you're not flying by the seat of your pants. The recipes include popular varieties made with whole, reduced-fat and skim milks; as well as soy and almond milks for vegans or those who are lactose intolerant. In a few easy steps, you can prepare your own homemade Greek yogurt and save a ton of money doing so. The machine's part of the process is lengthy at 10-12 hours, depending upon the type of milk you use, but you can throw it on at night and have fresh yogurt for breakfast!
The set comes with the yogurt maker, six 7-ounce glass jars with lids, 1-quart plastic container with lid and Greek yogurt strainer and the pieces also store neatly inside the unit for easy storage. It has great reviews everywhere I found it sold online.
What do you think, Moosers? Would you make your own Greek yogurt?
(Expires: Unknown)