Edible Arrangements: Save $5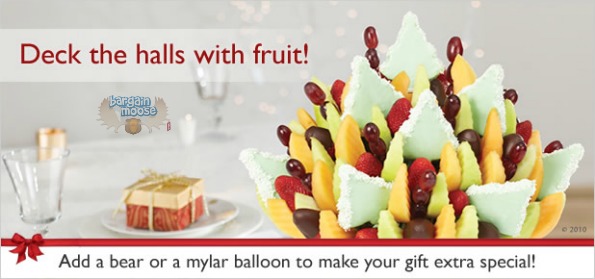 Save $5 off your next order from Edible Arrangements until the end of the month.
Discount: $5 off
Coupon Code: FINE1027
Expires: 30th November, 2011
Edible Arrangement's Holiday Fruit Baskets are available for the giving season. As they say, edible arrangements are More fun than a Holiday Sweater!
This Jingle Berry Rock gift set for $39 includes:
sweet chocolate dipped banana, chocolate dipped apples, strawberry combination. Our banana bites are hand-dipped in our mouthwatering semisweet chocolate on one side and white chocolate on the other; our fresh strawberries are hand-dipped in all semisweet chocolate and green Granny Smith apple wedges, hand-dipped in a delectable semisweet chocolate blend. Our collectible small Berry bear and one holiday balloon.
Although the code ends at the end of November, you should be able to use the code for the holidays as you can advance order. So get your edible arrangement lined up by the end of the month, save $5 and have one gift checked off your list!