Buy Airsoft: $165 Off 40mm Grenade Launcher Bundle - Now $110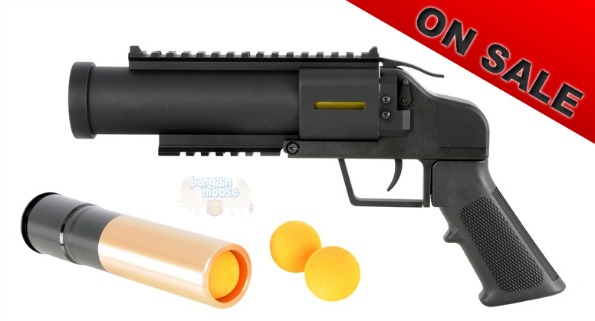 Father's Day is coming and some of us want to buy something epic for our fathers. Well there are few things more epic than projectiles! Airsoft Canada is currently offering $165 off this 40mm Grenade Launcher Bundle! Originally $274.98, this bundle is now on sale for $109.97.
To find this offer just go to deals and then sale items.
Don't worry folks: this baby is completely legal and you do not need an FAC to own it. The 'grenade launcher' is essentially an air gun that propels the contents of the cartridge whichever way you aim the gun (and subsequently pull the trigger). The gun is powered by green gas (sold separately for $19.99) or you can buy a propane adapter for cheaper energy. The shell does come charged with green gas but you will need more to recharge it.
Now, the cartridge/shell launches these awesome little foam balls. The kit comes with 18 green balls and 18 orange balls. You can stuff either two or three foal balls into the cartridge, shove it into the barrel, close the action, and then fire. The balls will go flying and you or the recipient of such a fantastic toy will have a riot.
There are other cartridges for the launcher that release pellets or a rubber bullet but Buy Airsoft no longer sells them. You might want to check eBay if you are looking for different cartridges.
This kit is just wicked for anyone who likes to have a good time. It is safe for use in the backyard and when playing with pets because the foam balls will not hurt anyone. In fact, I could see many dogs going nuts trying to chase down the little foam balls. As the kit only comes with 36 balls, you might want to pick up a few extra when you purchase your kits. They are super cheap so I highly recommend it. An extra 12 EVA Foam Balls - Orange or Green will cost you just $2.47 (save $3.52).
I was raised around guns and have been shooting since I was fourteen. My father is a large gun enthusiast and hunter. So for Father's Day I got him a little treat, something he could play in the backyard with in town when he didn't feel up to going out to the range. I got him a spring-loaded Airsoft pistol with enough ammo to keep him entertained for at least a few months. I know he is going to have a very Happy Father's Day this year!
Shipping varies depending on region. Pick-up in store is available in some areas.
(Expiry: unknown)