Amazon Canada: Up To 79% Off Fire-Safe & Waterproof Sentry Safe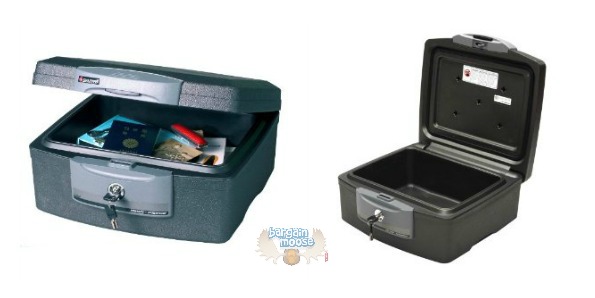 Amazon Canada has a great deal on this SentrySafe F2300 Fire-Safe Waterproof Chest with tubular key. Deal applies only to purchases through Amazon and ends on September 10th 2012.
This SentrySafe F2300 that was $98 and is now $20.43 is a great idea for any home or office. The safe is waterproof and fire-safe. The size is 0.36 cubic feet and weights 33 pounds with a tubular key.
There is also this SentrySafe H2300 that was $66.66 and is now $49.99. This is also 0.36 cubic feet and is silver gray in colour. Much like the one above, the chest is fire-safe and waterproof.
If you need something a little bigger, how about this SentrySafe X055 Security Safe that was $105 and is now $89.54. This one is 0.5 cubic feet and black in colour with a number pad for combination.
I don't know about you, but I have a few documents, even a couple pieces of jewelery that I wouldn't mind being in a safe place. We all have those little items that we really don't want to obtain a safety deposit box at the bank for. I mean, the idea of those is to keep items safe and away from your home should something happen. With this chest, documents and items will be safe in your home, should there be any floods or fires.
Shipping: Depends on item ordered and destination.
(Expiry: 10th September 2012)